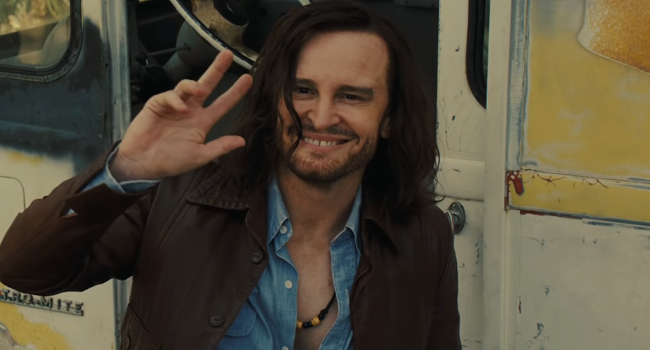 I just bought two tickets to see Quentin Tarantino's new film Once Upon A Time in Hollywood. It's playing in 35mm at our local arthouse and I'm very excited for this one. I've grown to really like Django — especially Leonardo DiCaprio's performance — but The Hateful 8 is probably my least favorite of Tarantino's films and I predict history will mark it as a low point in the auteur's filmography. Suffice to say I'm glad we're out of the Western genre and back into a dark drama set in a moment when Old Hollywood faded and New Hollywood rose to ascendancy on a wave of countercultural filmmaking that spoke to a youth culture that asked us to "Give Peace a Chance" even as it delivered up Altamont and Helter Skelter. The film tells the story of a fictional washed-up television actor, but it overlaps with the story of the real life Manson murders. Right after I purchased my tickets I saw this post at The Psyco Path that caught my eye. It's about a special that's coming to the Oxygen channel that features interviews with the Manson murderers. Here's a taste…
Manson: The Women, a new Oxygen special premiering August 10, which features interviews with four women who belonged to the Manson family—Dianne Lake, Catherine Share, Sandra Good and Lynette Fromme—as well as experts, including Lis Wiehl, Nikki Meredith and Deborah Herman, weighing in on the infamous murders.
"What was it about Charlie Manson that made these women join his family?" Wiehl asks.
The special aims to answer that very question.
See the full post at the link above and connect to the original article there. In the meantime, here's an interview with authors Peter Levenda and Whitley Strieber discussing the connections between the Manson Family the Process Church and the CIA. I hope Tarantino alludes to an Intelligence conspiracy in his film…
Please subscribe to my YouTube channel where I archive all of the videos I curate at Insomnia. Click here to check out more occult posts.
Join our Patreon campaign to receive exclusive, personalized, patrons-only art and music giveaways, and become an insider in this creative practice that keeps Insomnia awake.
Support independent art, music and writing at:
Bitcoin: 39tcfRTLCyeAD7kmYuxJviFiJP5hBUNHJk
Ethereum: 0x14Ba8044FF25BfDe2b62eFC6d21d7435DeB31796