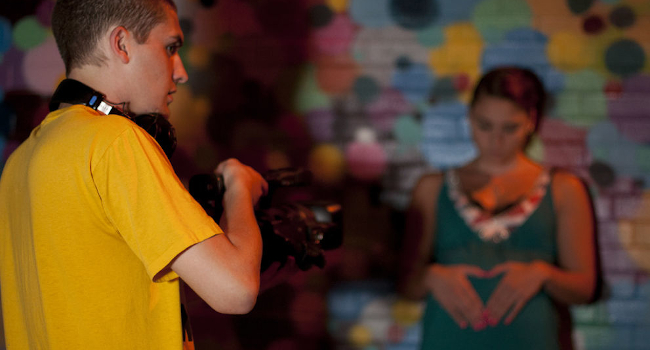 This is a review of a documentary feature called Nightcrawlers. The movie makes its world premiere at the Defy Film Festival in Nashville, TN this weekend. This review originally appeared in print in The Contributor.
In the opening scene of Nightcrawlers, a young man sits cross-legged on a bathroom floor. He glances at the camera in a lo-fi image that reads more like a video found on a phone than the first scene of a documentary feature. He wraps a belt around his arm and bites the end between his teeth to keep a tight squeeze above his elbow. He picks up a hypodermic syringe before the shot cuts to the same young man looking into the same camera, sitting against a block wall in a hoodie with a black backpack, and seemingly homeless.
Filmmaker Stephen McCoy received his first camcorder in 2011 in the last semester of his senior year in high school. After the sudden death of his father, McCoy began obsessively documenting his everyday life in a small town outside of Boston, MA. In Nightcrawlers, McCoy ceaselessly films his friends and teachers during a day at school. It's a bleak and wintry spring day, but the kids are already restless to graduate. He lenses his adorable toddler little sister who shouts "baby!" when she recognizes herself on the camera's display. Then we cut to a swing music dance at a public park. Nightcrawlers began as a visual diary, but evolved into a film about street people in Boston. Before long drugs and an unraveling personal life found McCoy living among his subjects, swallowed by addiction, poverty and his own dangerous art.
The film includes footage McCoy captured over his first five years out of high school, and seeing his transformation from a sweet young kid to a desperate heroin addict is like watching a horror movie monster metamorphosis in slow motion. But McCoy also captures the decline of America in the background of his scenes: the 2008 economic crisis and the Occupy Movement, the Boston Marathon bombing, and the opioid/heroin epidemic are all contemporaneous echoes of McCoy's own exodus on the nightmare side of the American dream. Many of the images in this film are almost a decade old, but Nightcrawlers feels up-to-the-minute timely despite is beautifully dated hi8 camcorder images. The film is never preachy or moralizing, and McCoy even brings some humor to the proceedings in his naturally charismatic, very respectful interviews and interactions with a gallery of Boston street people whose stories are captured in the film.
Nightcrawlers' structure dismisses common narrative and editorial presumptions. The film's unscripted capturing of actual people in real situations certainly qualifies it as a documentary film, but there's a surreality to the nomadic days of homeless artists and wandering subway singers, and there's a twilit somnambulism to the scenes of McCoy's strung-out subjects living on junk time. Nightcrawlers definitely doesn't glamorize drugs, but McCoy and editor Luc Benson's gorgeous, repetitive, free-associative montages communicate a feeling of what attracted McCoy to this life in the first place. And the inventiveness of McCoy's lensing and Benson's cutting finds this project hovering between journalism and an art film. McCoy gives viewers a seductive mix of sounds and images that range from the grimly realistic and difficult to watch to the purely poetic. And even though he acknowledges debts to filmmakers like Werner Herzog and Harmony Korine, McCoy's movie stands on its own merits as the relentlessly intimate memoir of a uniquely obsessed filmmaker.
See the world premiere of Nightcrawlers on Friday, August 23 at 8:10 P.M. at the Defy Film Festival at Studio 615 in East Nashville. Stephen McCoy will be doing a Q&A immediately following the screening. Go to www.defyfilmfestival.com for tickets and a full schedule for this two-day experimental cinema celebration.
Watch a trailer for this weekend's festival…
Please subscribe to my YouTube channel where I archive all of the videos I curate at Insomnia. Click here to check out more occult posts.
Join our Patreon campaign to receive exclusive, personalized, patrons-only art and music giveaways, and become an insider in this creative practice that keeps Insomnia awake.
Support independent art, music and writing at:
Bitcoin: 39tcfRTLCyeAD7kmYuxJviFiJP5hBUNHJk
Ethereum: 0x14Ba8044FF25BfDe2b62eFC6d21d7435DeB31796