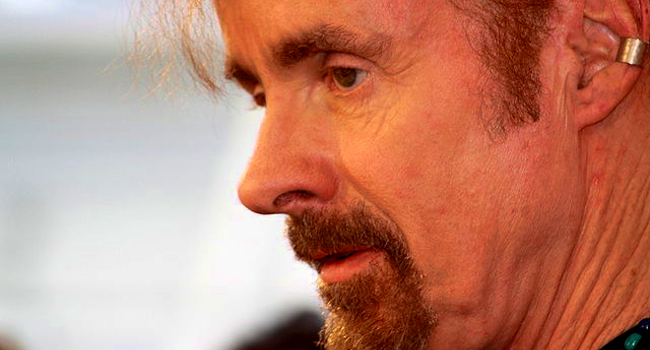 By Amrei-Marie – selbst fotografiert von Amrei-Marie, CC BY-SA 3.0 de, https://commons.wikimedia.org/w/index.php?curid=6273518
T.C. Boyle's new novel, Outside Looking In, revisits the 1960s and 1970s scenes where the author first experimented with psychedelic drugs. The book sews the experiments and careers of pioneering psychonauts like Timothy Leary and Richard Alpert into a fictional tapestry that reads like a magic carpet ride buoyed on the Utopian impulses inspired by the early days of American acid. Here's a bit from the L.A. Review of Books… 
Set in the backdrop of the Harvard Drug Scandal of 1962 and 1963, Outside Looking In chronicles the experiences of Fitzhugh Loney, a psychology graduate student who gradually becomes a member of Timothy Leary and Richard Alpert's psychedelic inner circle. After Leary and Alpert's dismissal from Harvard, the psychedelic enthusiasts migrate to Zihuatanejo, Mexico, and eventually Millbrook, New York, where they attempt to create utopian research centers that promote the exploration of expanded consciousness and experimental forms of communal living. Although the exploration of consciousness is a central occupation in Outside Looking In, Boyle's novel also focuses on how the defrocked academics and Harvard graduate students must navigate the return to "reality" once the trip has expired.
The LSD experience is ripe for novelistic exploration because the medical community is currently reexamining the therapeutic benefits of LSD and psilocybin. In recent studies at Johns Hopkins University, UCLA, and NYU, researchers examined how psychedelics can be used to treat end-of-life anxiety, nicotine addiction, depression, alcohol dependency, and other ailments. 
Read the full review at the link above and check out this recent interview where Boyle discusses god, LSD and MAGA…
Please subscribe to my YouTube channel where I archive all of the videos I curate at Insomnia. Click here to check out more occult posts.
Join our Patreon campaign to receive exclusive, personalized, patrons-only art and music giveaways, and become an insider in this creative practice that keeps Insomnia awake.
Support independent art, music and writing at:
Bitcoin: 39tcfRTLCyeAD7kmYuxJviFiJP5hBUNHJk
Ethereum: 0x14Ba8044FF25BfDe2b62eFC6d21d7435DeB31796