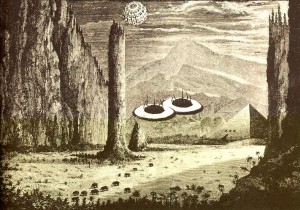 Readers who are familiar with the artist Satty may have discovered his work the way I did – leafing through the pages of Terence McKenna's The Archaic Revival, delighting in the mystery and psychedelic weirdness of Satty's collages which illustrate that volume.
A talented and troubled artist who became a fixture in the underground poster scene during it's San Francisco heyday during the 1960′s and 70′s, Satty's best-known works are black and white posters of his collage compositions that often offer hallucinatory, fictionalized re-interpretations of famous events in San Francisco history. The Satty-illustrated volumes of The Annotated Dracula and The Illustrated Edgar Allen Poe are required.
Check out this insane story about Satty's apartment building in San Fransisco – a site that became something of a headquarters for the poster scene, it was famous for Satty's outrageous decorative tastes.
This piece was written by Holly Erickson.
Satty and the North Beach U-Boat
Prominent in the hippie scene, Satty (Wilfried Podriech, 1939-1982) transformed 2141/43 Powell into what the late SF Chronicle art critic Thomas Albright described as:
"a surreal environment that resembled a cross between Mrs. Havisham's parlor in Great Expectations and something out of Luna Park. Using detritus he had found in trash bins of the more affluent Satty covered the dirt floor with oriental carpets, the walls with fur and mirrors, and created a " warren of variously weird compartments like the different rooms in Hesse's Magic Theater." It was said to have "as many levels and ladders, as a Hopi Indian pueblo." Baby dolls, alchemy books, a human skull, a large incense burner were all part of the decor.
Satty was considered a master manipulator. Maddened when another resident of 2141 allowed his bathwater to overflow, flooding Satty's opulent underworld, he suggested to the landlady that she evict all the other tenants and hire him as building manager. (Clearly this was before the rent and eviction control statutes and such a thing was still possible) Satty then installed his friends, including David Singer and Mark Twain Behrens, two other poster artists of the 1960′s, in various other apartments on the premises.
The new building tenants dubbed 2141 "The North Beach U-Boat" for its extravagant underground compartments. Friends hypothesized that Satty fashioned the so-called bunker as a result of childhood trauma during the World War Two bombing of Bremen, his hometown. Satty himself said he styled it partly on the underground grottos that Mad King Ludwig of Bavaria had built. Contemporaries also felt it was the perfect place, because of its privacy, to engage in illicit activities.
If it was an attempt to protect himself from his childhood memories or to create privacy, Satty nonetheless opened the door to everyone who was anyone of the era.
Included on the guest list were actor Jack Nicholson and others involved in the making of the film One Flew Over the Cuckoo's Nest; Michael Douglas and his girlfriend Brenda Vacarro who were in S.F. filming the TV show The Streets of San Francisco; German filmmaker Wim Wenders; The Grateful Dead, and the Jefferson Airplane; the beats Allen Ginsberg, Bob Kaufman, and Lawrence Ferlinghetti; the hippies Allen Cohen and Jann Wenner (founder of Rolling Stone Magazine for which Satty created an illustration every month); Anton Lavay the Satanist, and Dr. Caligari an unsmiling, cape-clad physician (who later jumped off the Golden Gate Bridge his cape aflutter); former resident Kenneth Anger; famed San Francisco newspaper columnist Herb Caen; Sly Stone, Dan Hicks, Francis Ford Coppola, Milos Forman and Bill Graham; socialites, art patrons, politicians, and a few Catholic school girls whose most devilish fantasies were satisfied by their ventures to 2141 Powell Street. Satty married one of these girls, Martha.
All good things must come to an end. According to Thomas Albright: "Sequestered like a medieval copyist in his cell, working with the meticulous perfectionism of a Dutch diamond cutter and the obsessiveness of a paranoiac possessed by an "ide fixe", Satty combined and recombined fragments into often magical collages where it was impossible to tell where reality ended and fantasy began."
And he began to drink excessively, lost his wife, and went into detox.
Friends thought a change of locale might be helpful to Satty because the place was redolent of the fast fading hippie past, but "As long as he stayed inside its walls, it was still 1967, and Satty could never quite square the fantasy world he had created then with the reality of the 1980′s."
In January of 1982 Satty, drunk, fell down one of the ladders that led to his underworld, and died.
In 1982 Drew Gyorke, a San Francisco chef, attended the wake that Satty's friends held following his demise.
"I was invited to Satty's wake through my friend George Hunter, an original hippie, who started one of the first SF bands, the Charlatans. The Charlatans played early American at the Fillmore/Avalon and wore old time clothes. George played the autoharp, or kind of strummed along. The Charlatans were broken up by this time, Dan Hicks was on his own with the Hot Licks, another guy–Richard–was doing big band stuff.
"The apartment was crowded and seemed endless, although I found the bathroom. People everywhere and I met Alton Kelley and Mouse (60′s poster artists). I thought it was pretty cool, low-key and full of interesting folk. Like the musicians I met, nobody was on parade, maybe everybody was sad and in mourning, sort of. I ran into people I knew from all over town."
"I thought the punch was spiked but everybody was cool and we all danced except I got out of hand. I had body slammed around too much and hit the turntable a few too many times. The music was interrupted all the time and I was 86′d. It was a fun party. I hadn't jumped around on a dirt floor basement since growing up on 15th Avenue."
Stay awake!
Watch this performance of my OccupySong at Occupy Congress in DC!
Stream or download my brand new OccupySong right here!