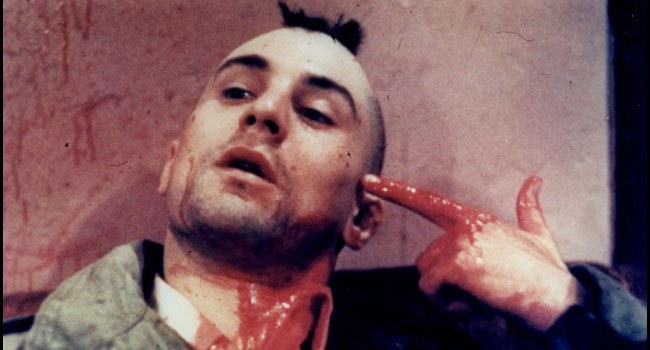 Of all the brilliant gems of 1970′s America's New Hollywood Cinema, Martin Scorsese's Taxi Driver may be the grimiest and goriest. Beyond Paul Schrader's loneliness-crazed script or Scorsese's street-level shooting, it's Robert DeNiro's portrait of the mohawked, gun-wielding avenger Travis Bickle that continues to make this film crackle with energy and danger decades later.
Steve Schapiro was the special photographer on the film's set and his black-and-white and color snaps captured the making of the film both in front of the camera and behind the scenes. Schapiro shot the then-dangerous setting of Times Square at night in lurid spectra that captured everything from the shining black of the rain-slicked streets to the painted cheeks of the prostitutes to the blazing white glow of the porno theater marquees to the orange/red orgy of bloody violence at the film's climax. His black-and-white stills are the perfect comment on a character like Bickle who can see only dichotomous extremes from his self-inflicted isolation: saints and sinners, beauty and ugliness, the fallen and the redeemed.
Featuring 100′s of unseen photographs, this is more than a movie stills collection. Schapiro's work reveals the dark impulses at the center of the film — it practically reads as an new edit of the movie — and it also captures the obsessive, personal intensity of the creative crucible in which it was created.
Published by Taschen, the book includes a foreword by Martin Scorsese and collects contemporaneous interviews with Scorsese, DeNiro and Jodi Foster from After Dark, Playboy, The New Yorker and more. The book includes French and German translations.