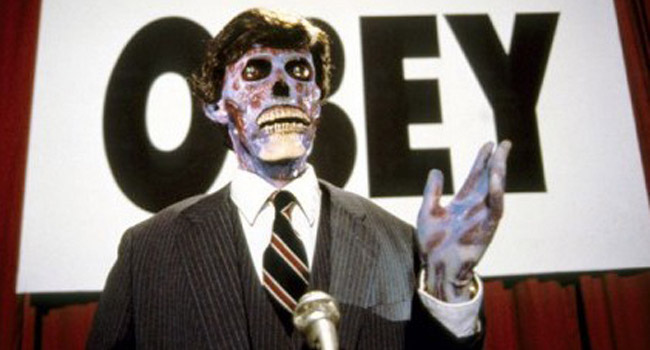 John Carpenter's They Live (1988) doesn't sound like a classic movie: A drifter wanders into Nowheresville USA — a Los Angeles neighborhood devastated by an economic recession. After witnessing some suspicious activity surrounding a strange church, the man discovers a box of special sunglasses which reveal that the reality he's come to take for granted is anything but what is seems. Add a starring role for professional wrestler "Rowdy" Roddy Piper and one would assume They Live was potboiler sci-fi with a clever gimmick and a B-list "star."
The problem with this assessment is that it forgets that this is a movie made by a man who practically created slasher films with Halloween and whose ability to infuse cliche-filled genres with deep, emotional and subversive content made him a legend.
They Live is a conspiracy-laden masterpiece of popcorn paranoia that manages to be as entertaining as it is startling. A class war battering ram of a movie, the flick makes the moneyed into monsters while elevating its blue collar lead to the status of a revolutionary hero.
No spoilers here. If you haven't seen the flick, do! Whether you have or not, enjoy this take by Carpenter himself, talking about his inspirations for They Live in celebration of the film's 25th birthday. The LA Times has the skinny:
Carpenter discussed his motivation in making "They Live," a campy but subversive sci-fi flick that starred professional wrestler "Rowdy" Roddy Piper as the film's blue-collar hero Nada, who discovers an alien conspiracy to mind-control the people of Earth using invisible messages. Carpenter called "They Live" his most political film and said it was his response to consumerism and class disparity in the 1980s.
"By the end of the '70s there was a backlash against everything in the '60s, and that's what the '80s were, and Ronald Reagan became president, and Reagonomics came in," Carpenter told the sold-out theater at the Chinese 6 Theatres in Hollywood. "So a lot of the ideals that I grew up with were under assault, and something called a yuppie came into existence, and they just wanted money. And so by the late '80s, I'd had enough, and I decided I had to make a statement, as stupid and banal as it is, but I made one, and that's 'They Live.' … I just love that it was giving the finger to Reagan when nobody else would."
Here's the trailer:
Please subscribe to my YouTube channel where I archive all of the videos I curate at Insomnia. Click here to check out more cinema posts.
Stay Awake!