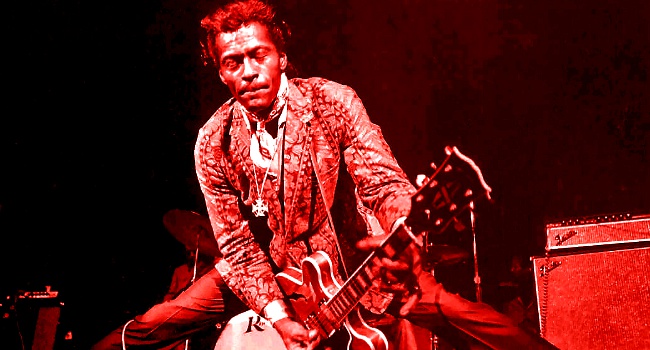 I've been off the blog for a few days, enjoying some adventures in real life away from the keyboard. In the meantime I missed an important birthday that I wanted to make note of.
On October 18, Chuck Berry turned 87 years old! While rock 'n' roll is infamous for its one-hit-wonders and too-young-to-die casualties, Chuck Berry is still kicking — a living legend and a constant reminder of the music's roots. The undeniable architect of rock 'n' roll electric guitar playing, it's hard to think of a musician whose made a larger, longer impact than Berry.
Berry created a style of guitar playing that mixed insistent, infectious rhythm strumming with sinewy lead lines and archetypal riffs that blended the two approaches into a singular force. When you add to that one of the most important song catalogs produced by anyone, and some of the best lyric writing in the history of the form, there's a reason why we're still talking about a man who made his first splash on the scene more than half a century ago.
In 1969, legendary filmmaker D.A. Pennebaker trained his lens on Chuck when he was playing in a festival in Toronto, Canada. Pennebaker included part of Berry's performance in the festival film, Sweet Toronto. In 2012, Berry's full performance was reassembled and released on DVD as Rock " Roll Music and credited to Pennebaker and his wife, filmmaker Chris Hegedus.
In honor of Chuck's special day, here is the film in its entirety.
Please subscribe to my YouTube channel where I archive all of the videos I curate at Insomnia. Click here to check out more Music posts.