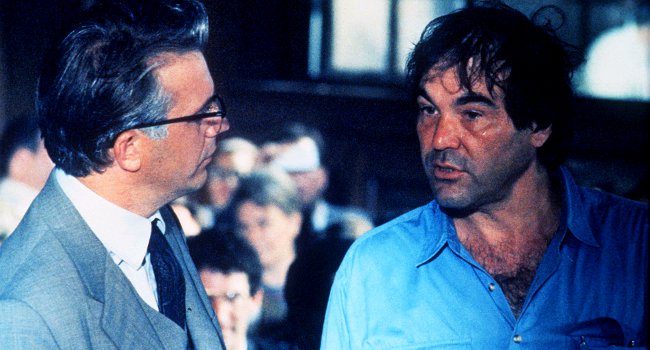 With the tragedy of the JFK assassination marking its 50th anniversary this month, I'm continuing my regular posts exploring that dark day in Dallas.
Not only was the assassination of JFK one of the most important events in U.S. history, the mystery that surrounds the tragedy created the modern conspiracy theory and continues to plague us with questions five decades later.
For a contemporary audience, it's impossible to separate filmmaker Oliver Stone's masterpiece JFK from the killing of the president in 1963. Both celebrated and scourged, Stone's "counter myth" about the killing of Kennedy continues to divide audiences, sticking a bold, pointing finger directly into that wound in our national consciousness.
Oliver Stone's son Sean played Kevin Costner's son in the movie and here he sits down with his famous father and Buzzsaw host Tyrel Ventura to talk about Hollywood, conspiracy theories, the JFK film and the secret history of the assassination.
Here are Roger Ebert's comments on the film's superb cast and stunning editing in his original review of the 1991 film:
As Garrison, Kevin Costner gives a measured yet passionate performance. Like a man who has hold of an idea he cannot let go, he forges ahead, insisting that there is more to the assassination than meets the eye. Stone has surrounded him with an astonishing cast, able to give us the uncanny impression that we are seeing historical figures. There is Joe Pesci, squirming and hyperkenetic as David Ferrie, the alleged getaway pilot. Tommy Lee Jones as Clay Shaw, hiding behind an impenetrable wall of bemusement. Gary Oldman as Lee Harvey Oswald. Donald Sutherland as "X" (actually Fletcher Prouty), the high-placed Pentagon official who thinks he knows why JFK was killed. Sissy Spacek, in the somewhat thankless role of Garrison's wife, who fears for her family and marriage. And dozens of others, including Jack Lemmon, Ed Asner, Walter Matthau and Kevin Bacon in small, key roles, their faces vaguely familiar behind the facades of their characters.
Stone and his editors, Joe Hutshing and Pietro Scalia, have somehow triumphed over the tumult of material here and made it work – made it grip and disturb us. The achievement of the film is not that it answers the mystery of the Kennedy assassination, because it does not, or even that it vindicates Garrison, who is seen here as a man often whistling in the dark. Its achievement is that it tries to marshal the anger which ever since 1963 has been gnawing away on some dark shelf of the national psyche. John F. Kennedy was murdered. Lee Harvey Oswald could not have acted alone. Who acted with him? Who knew?
Here's the full interview:
What do you think? Do you have a theory about the assassination? Leave a comment and let's see if we can't come to our own conclusions.
Stay Awake!
Please subscribe to my YouTube channel where I archive all of the videos I curate at Insomnia. Click here to check out more Counter Culture posts.