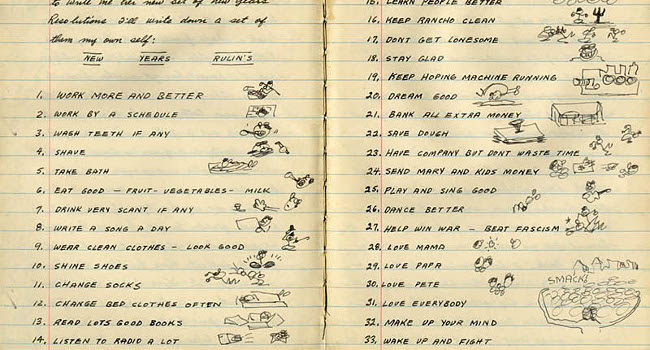 Not only was Woody Guthrie the father of folk music, he also knew how to make a New Year's resolution. The Brain Pickings site explains:
As a lover and maker of lists, I often agree with Umberto Eco that "the list is the origin of culture." But, more than that, it can also be a priceless map of personal aspiration, as is the case of the kinds of lists we make this time of year — resolution lists. This particular one, penned by the great Woody Guthrie in 1942 at the tender-but-just-wise-enough age of 30, is an absolute gem of humor, earnestness, and pure humanity.
Here is Woody Guthrie's Resolution List, 1942:
1. Work more and better
2. Work by a schedule
3. Wash teeth if any
4. Shave
5. Take bath
6. Eat good — fruit — vegetables — milk
7. Drink very scant if any
8. Write a song a day
9. Wear clean clothes — look good
10. Shine shoes
11. Change socks
12. Change bed cloths often
13. Read lots good books
14. Listen to radio a lot
15. Learn people better
16. Keep rancho clean
17. Dont get lonesome
18. Stay glad
19. Keep hoping machine running
20. Dream good
21. Bank all extra money
22. Save dough
23. Have company but dont waste time
24. Send Mary and kids money
25. Play and sing good
26. Dance better
27. Help win war — beat fascism
28. Love mama
29. Love papa
30. Love Pete
31. Love everybody
32. Make up your mind
33. Wake up and fight
Thanks for reading the blog this year! Here is a special New Year's gift: David Carradine starring as Woody Guthrie in the Academy-Award-winning film Bound for Glory. Happy New Year!
Stay Awake!
Please subscribe to my YouTube channel where I archive all of the videos I curate at Insomnia. Click here to check out more Music posts.