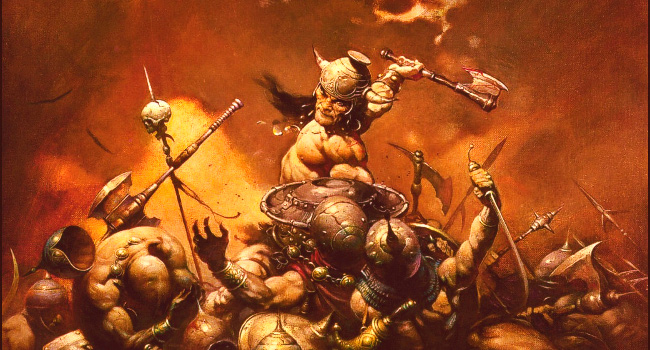 If you are a fantasy fan…wait…scratch that. If were ever a boy child, you probably love the art of Frank Frazetta whose iconic renderings of Conan the Barbarian, Tarzan and countless scantily clad damsels, priestesses and Amazons are the stuff that being a 13-year-old male is made of.
The Nerdist website just dropped a bomb when it announced Robert Rodriguez' opening of a Frank Frazetta museum during the South by Southwest festival in Austin, TX. I've been scouring the evidence and if you are familiar with the the recent Frazetta story — which involves attempted robbery of the artist's paintings by his own son and other family infighting — you might be as confused as I am.
Here's my take: Rodriguez will be showing his own collection of the master fantasy painter's original art along with original art from other projects like Sin City. Admission and print sales will go to support the re-opening of the Frazetta Art Museum in Pennsylvania. It seems the Rodriguez display is just a pop-up that will only be open from March 8 — 16.
Here is a bit from the Nerdist post:
Heading to SXSW? Well, good for you, you lucky so-and-so! As if filling your belly with BBQ, beer, and all manner of uber-hip nerdiness wasn't enough, we're proud to exclusively announce that for a limited time only director Robert Rodriguez is opening a museum to display his impressive collection of Frank Frazetta artwork at SXSW. Go ahead and start scouring Craigslist for passes now — we'll wait.
One of the most iconic fantasy artists in history, the Eisner Hall of Famer contributed art to classic works of fiction for Conan the Barbarian, Tarzan, John Carter of Mars, and countless others. With rare Frazetta works like "Death Dealer", "Egyptian Queen", "At the Earth's Core", "Conan", and "Dark Kingdom" on display, you can bet your bottom dollar that it'll be well worth your while. The gallery, which will be open to the public daily from March 8-16 from noon-8pm, is located at 920 Congress Ave. in Austin, TX, and will charge a $20 entrance fee which goes to benefit the Frazetta Estate's preservation of art for a new Frank Frazetta museum.

And here is an interview from late last year with Frazetta's son and grandson discussing the future of the museum which originally opened in 2001 but was closed after Frazetta's death in 2010. Be sure to watch through to the end to see a flip-through of one of Frazetta's earliest notebooks…
Stay Awake!
Please subscribe to my YouTube channel where I archive all of the videos I curate at Insomnia. Click here to check out more Art posts.