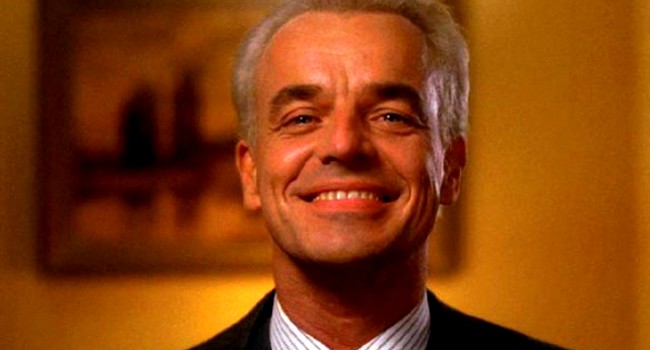 First things first — I'm really sorry for that headline.
No, David Lynch's countercultural coup of prime time television via the weird and wonderful Twin Peaks television series won't be seen again soon on a television near you — Twin Peaks was a phenomenon of a time and a place that cannot be repeated. That said, what if it transformed and better outfitted itself for a contemporary audience? What if it mutated? What if it already has?
CNET has the story…
In the Black Lodge, Agent Cooper witnessed a backwards-talking version of Laura Palmer say in the final episode of "Twin Peaks" — "I will see you again in 25 years." While the show ended with a big explosion and the terrifying demon of "Bob" possessing Agent Cooper, fans never expected to hear again from the citizens of that sleepy logging town full of intrigue.
But 25 years later, in accordance with Laura's prophecy and perhaps the show's anniversary, brothers Emmett Furey and Patrick Furey decided to construct a third season of "Twin Peaks" via the Enter The Lodge website.
To follow this "Twin Peaks" trans-media experience, fans are encouraged to follow the handle @EnterTheLodge on Twitter, as well as those of FBI Special Agent Dale Cooper, Sheriff Harry Truman, the mysterious Audrey Horne, owner of Great Northern Hotel Benjamin Horne, Double R Diner waitress Shelly Johnson, and Laura's best friend, Donna Hayward — just to name a few of the 65 characters represented, including a few surprise new ones.
Of course, the show wouldn't be the same without cameos from the Log Lady and FBI Chief Gordon Cole (who was played originally by the show's creator David Lynch).
By following the various Twitter handles of the show's characters, the story unfolds through their online conversations. Fans can read the entire Season 3 story on the Enter The Lodge website, which collects character tweets in an easy-to-follow-along format.
In honor of this resurrection, here is a compilation of the show's weirdest, scariest scenes. Number 4 gets my vote. What about yours?
Stay Awake!
Please subscribe to my YouTube channel where I archive all of the videos I curate at Insomnia. Click here to check out more Art posts.