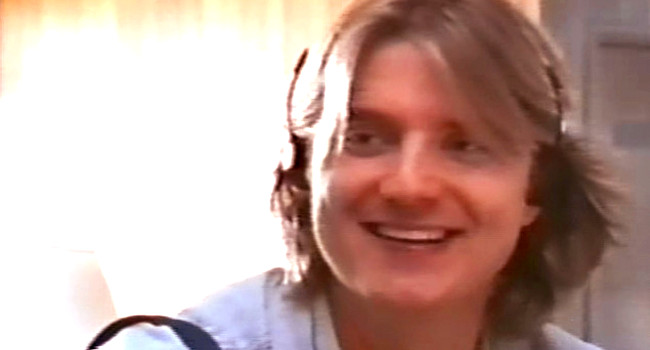 When comedian Mitch Hedberg died from a heroin and cocaine overdose in 2005, it cut short the career of one of the most interesting stand-up comedians since Bill Hicks. Hedberg combined contemporary stoner observations with the brevity and timing of an old school one-liner comic to hilarious effect, and his star was on the rise: He appeared on Late Night with David Letterman ten times as well as on That '70′s Show. He released two CD's and signed a half a million dollar sitcom deal with Fox, but then it all ended in a hotel room in New Jersey.
What's not as well known is that Hedberg wrote, directed, produced and starred in a 1999 comedy feature called Los Enchiladas. The flick premiered at Sundance, but has never been distributed. IMDB has the skinny…
About a half dozen slacker dudes dwell at their jobs at Los Enchiladas, the local Mexican sit-down joint. The 2 folks in "management" are both into their own authority and fill their days creating wild & stupid rules for the working folk. By mid-film, however, the manager has fled the cops after beating the crap out of a competing restaurant's dancing gyro… and the "Chef" has jumped ship to join a beatnik poet's groups which specializes in exotic menu-writing. This leaves the minimum-wage crowd to run the place as they see fit…. and they see a lot of debauchery, booze, and free steak in their future.
This no-budget fast food spoof is genuinely hilarious and a must-see for fans of Hedberg. It's outrageously quotable — my personal favorite is "The venison burrito is a slut." Hedberg plays a drifter who's written a book called The Drifter's Handbook which "…tells you how to get around. How to get from town to town." Keep your ears open for snippets of Hedberg's live show in the dialog, and keep your eyes peeled for performances by Hedberg's comedian pals including Dave Atell, Todd Berry, Felicia Michaels and Marc Maron.
A work print of the film hit the torrents in 2011 and now, of course, it's on YouTube…
Stay Awake!
Please subscribe to my YouTube channel where I archive all of the videos I curate at Insomnia. Click here to check out more Cinema posts.