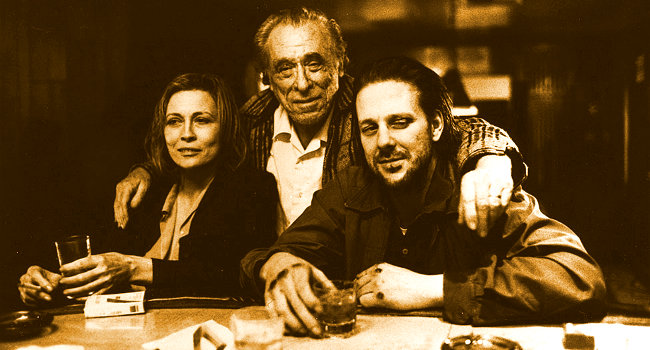 25 years ago Charles Bukowski published Hollywood — the poet's fictional account of adapting the screenplay of his novel Barfly for film.
This all gets a little meta, but Buk wrote a screenplay adaptation of his novel and then adapted his experience of making the Barbet Schroeder film — featuring Mickey Rourke and Faye Dunaway — into a book.
Hollywood tells the hilarious story of Bukowski's trying to navigate the machinations of the star system of La La Land in a voice that could only be his own. Here's the Wiki…
The novel is a Roman à clef, in which Bukowski uses the following names as pseudonyms for the fictionalized versions of people with whom he worked on the movie Barfly:
Mickey Rourke, the lead actor in the film, is named Jack Bledsoe.
Faye Dunaway, the lead actress in the film, is named Francine Bowers.
Barbet Schroeder, the director of the film, is named Jon Pinchot.
He also references people he met in Hollywood during his time working on the movie:
Jean-Luc Godard is named Jon-Luc Modard.
Steve Baës is named Francois Racine
Dennis Hopper is named Mack Austin
Sean Penn is named Tom Pell
Norman Mailer is named Victor Norman
David Lynch is named Manz Loeb
Isabella Rossellini is named Rosalind Bonelli
Werner Herzog is named Wenner Zergog
Taylor Hackford is Hector Blackford
Here is a short documentary about the making of Barfly…
Stay Awake!
Please subscribe to my YouTube channel where I archive all of the videos I curate at Insomnia. Click here to check out more Cinema posts.