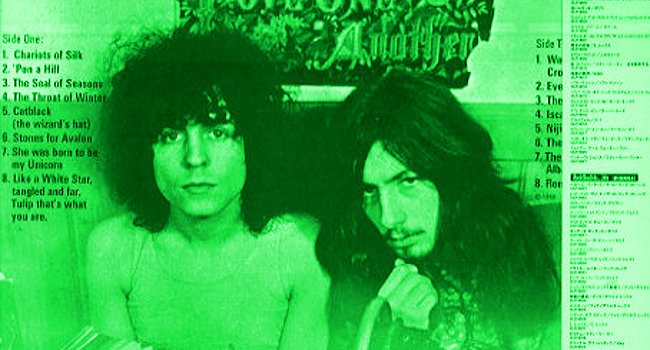 The 45th anniversary of Tyrannosaurus Rex's third album, Unicorn, might not seem like an auspicious anniversary, but, for a number of reasons you better believe it is.
Tyrannosaurus Rex was the acoustic duo of Marc Bolan and Steve Peregrin Took — who pulled his stage moniker from the Lord of the Rings trilogy by J.R.R. Tolkien. The band was founded as a four piece in 1967 and promptly broke up. Bolan and Took carried on, marrying Bolan's vibrato-infused vocals and rhythmic acoustic guitar playing to Took's bongos and percussion. The recipe was custom-made for the hippie folk underground, and the band soon won champions like the legendary music presenter John Peel and the iconic music producer Tony Visconti.
Unicorn marks the band's high point: Took was kicked out when Bolan wouldn't concede to record Took's songs on the next album which featured a new percussionist and the first appearance of Bolan's electric guitar. In this sense A Beard of Stars isn't a Tyrannosaurus Rex album so much as a transitional recording that points the way to T. Rex and the founding of Glam Rock.
Unicorn features the ethereal lyrics and sensual performances the band was known for — it even includes John Peel himself reading a Bolan children's story at the close of the second side.
Here is Unicorn…
Stay Awake!
Please subscribe to my YouTube channel where I archive all of the videos I curate at Insomnia. Click here to check out more Music posts