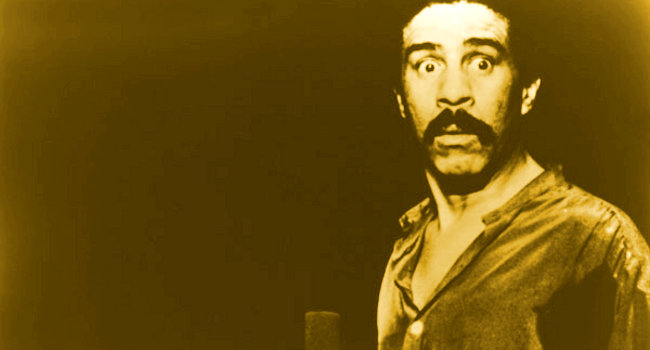 In our ongoing examination of avant garde artists, here is yet another example of what happens when a sharp-edged talent takes a stab at the mainstream. Here's a hint — it's a bloodbath.
In 1977 Richard Pryor got his own television show on NBC. On paper, the decision made sense — Pryor was already on his way to becoming a legendary stand-up comedian, he'd written for a number of television shows and was the first black host in the inaugural season of Saturday Night Live.
By the 1980′s television shows became the gold ring of the stand-up circuit so Pryor's early transition from the stage to the small screen was both a milestone and a cautionary tale. Here's the Wiki…
The Richard Pryor Show premiered on NBC in 1977, but was canceled after only four episodes. Television audiences did not respond to the show's controversial subject matter, and Pryor was unwilling to alter his material for network censors. During the short-lived series, he portrayed the first African-American President of the United States, spoofed the Star Wars cantina, took on gun violence, and in another skit, used costumes and visual distortion to appear nude.

Pryor was ready to quit before production even began because of network intervention, indifference, and incompetence during the development stage. He was eventually wooed back, agreeing to do four episodes of the show instead of the ten originally required by his contract. The four episodes were produced, and they aired in consecutive weeks, but the network interference that almost canceled the show before it began returned when the first episode's introductory bit was cut just before air. The bit began with a close-up of Pryor's face as he explained that he was not going to have to give anything up in order to bring his brand of comedy to network television. Then the camera pulled back to show an apparently nude Pryor with his genitals removed (Pryor wore a full-length body stocking, so no nudity was shown).
Pryor only filmed four episodes of the show, and there were controversies beyond the first episode's title-card scene. A skit in which Pryor appeared as a machine gun-toting rocker who kills all of his white fans also caused a stir. The second episode also featured a controversial skit that showed a woman in a park describing what her first lesbian experience was like. Probably one of the most shocking and revealing skits of the show came during the last episode. The skit featured a roast (similar to ones by the Friars Club or hosted by Dean Martin). The show's cast roasted Pryor, who sat with his head down laughing mildly while regulars on the show either had kind remarks or very scornful ones.
The roast format seems especially contemporary to us today given our current culture's penchant for taking everybody else's old, good ideas and repeating them. The lineup here features hilarious skewrerings by cast members and writers including Robin Williams, Paul Mooney, Tim Reid, John Witherspoon, Sandra Bernhard, Vic Dunlop, Edie McClurg and Marsha Warfield, but the best part of the night is listening to Richard laugh.
Here is The Roast of Richard Pryor
Stay Awake!
Please subscribe to my YouTube channel where I archive most of the videos I curate at Insomnia. Click here to check out more Counter Culture posts.