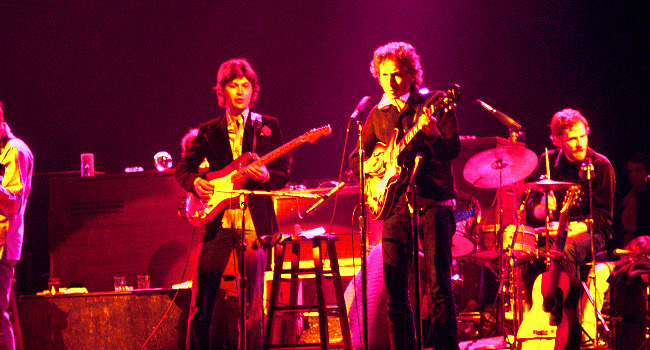 45 years ago, in 1969, The Band released their classic sophmore album and changed rock 'n' roll forever. But, how did a group of nearly-all Canadians seem to absorb the entire history of American music from folk, to blues, to country to jazz and recreate it in their own inimitable way?
While the band received a thorough education in American rhythm and blues during their tenure backing Ronnie Hawkins as The Hawks, the poetic magic of their second album required a PhD in American roots music that might have seemed impossible given the youthful faces that appeared on the record's iconic cover. The Band's Music from Big Pink debut hinted at their greatness, but few expected this masterpiece from the group.
Here's the Wiki…
The album includes many of The Band's best-known and critically acclaimed songs, including "The Night They Drove Old Dixie Down", which Rolling Stone named the 245th greatest song of all time (in the updated version,[7] it was the 249th greatest song of all time). In 2003, the album was ranked number 45 on Rolling Stone magazine's list of the 500 greatest albums of all time. In 1998 Q magazine readers voted The Band the 76th greatest album of all time. TIME magazine included it in their unranked 2006 list of the 100 greatest albums. Robert Christgau, having been disappointed with their debut, had expected to dislike the record and even planned a column for The Village Voice to castigate their followup. Upon hearing the record, however, he declared it better than Abbey Road, which had been released four days following, writing that The Band's LP is an "A-plus record if I've ever rated one."[2] He ranked it as the fourth best album of the year in his ballot for Jazz & Pop magazine's annual critics poll.[8]

By the time of their second record, The Band had toured the world with Bob Dylan and created a collection of music with him in Woodstock, New York that would later be released as The Basement Tapes. The lessons they learned during their time in their rustic retreat, sharing songs with Dylan finally came to fruition on the classic 1969 release.
Here's a documentary that tells the story of that time, and helps to illuminate The Band's evolution into one of the most important groups in the history of rock…
Stay Awake!
Please subscribe to my YouTube channel where I archive all of the videos I curate at Insomnia. Click here to check out more Music posts