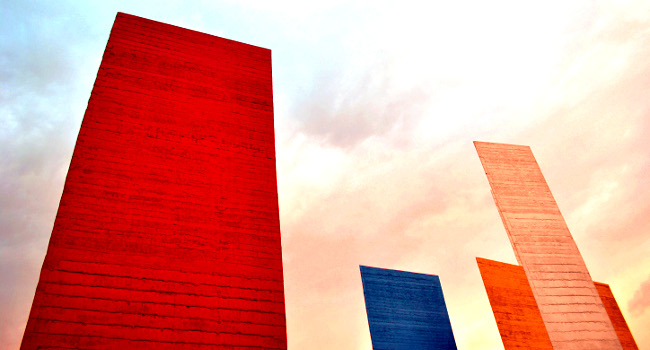 You might not recognize the name Luis Barragán, but any student of counterculture and edgy film will recognize the great master's work. The architect's monumental sculptures play a key role in Alejandro Jodorowsky's epic The Holy Mountain though most viewers might assume they are looking at stage sets. Here's some Wiki…
The Torres de Satélite ("Satélite Towers") are located in Ciudad Satélite, in the northern part of Naucalpan, Mexico. One of the country's first urban sculptures of great dimensions, had its planning started in 1957 with the ideas of renowned Mexican architect Luis Barragán, painter Jesús Reyes Ferreira and sculptor Mathias Goeritz. The project was originally planned to be composed of seven towers, with the tallest one reaching a height of 200 meters (about 650 feet),[citation needed] but a budget reduction forced the design to be composed of only five towers, with the tallest measuring 52 meters (170 feet) and the shortest 30 meters (98 feet).
Goeritz originally wanted the towers to be painted in different shades of orange, but changed his mind later due to some pressure from constructors and investors. It was finally decided the towers would be painted in red, blue and yellow, the so-called primary subtractive colors, with the addition of white.
The Satellite Towers play a pivotal role at the beginning of the film's mind-blowing second act, and it's important to recognize not only Jodorowsky's use of existing structures, but also Barragán's gorgeous, massive work. Here's a cool drive-by video of the actual towers that demonstrates their perspective-warping designs…
The Ever-changing perspective view of Torres de Satélite – Luis Barragan from Jinglu on Vimeo.
Stay Awake!
Please subscribe to my YouTube channel where I archive all of the videos I curate at Insomnia. Click here to check out more Art posts.