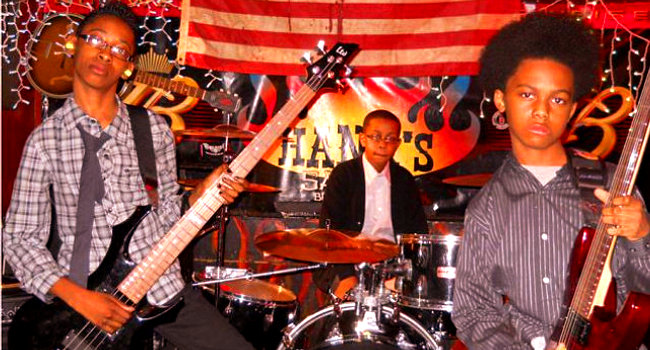 As if my Nashville readers needed more proof of the mainstream record industry's wrong-headed ways, check out this story about how one of the internet's biggest bands are already burnt out before they're even legal to drink. Here's the word from The Daily Beast…
Their Times Square metal performance went viral, and a trio of 11- and 12-year-olds were signed to a $1.8 million record deal. Then they realized what the industry was all about.
People tend to romanticize the music industry. Behind every successful band is, it seems, a story of a renegade A&R representative who discovered them cracking away at a dive one night and the rest was history.
The reality is far less enchanting. These days, record labels are more concerned with branding than talent. It's not a matter of what you can do, it's a matter of how. Lizzy Grant was a failed singer-songwriter before Interscope rebranded her into a sultry, self-described "gangsta Nancy Sinatra," while Katy Hudson was a gospel recording artist before Capitol Records and songwriting wizard Dr. Luke helped transform her into the girl-kissing Katy Perry.
Nowhere is this more apparent than in Breaking a Monster, Luke Meyer's new documentary that chronicles the industry journey of the Brooklyn band Unlocking the Truth. If that name sounds familiar, well, it should. Back on June 23, 2013, the group staged a raucous gig on the sidewalks of New York City's Times Square, where pedestrians were left floored by this headbanging trio of 11- and 12-year-old black kids from Brooklyn who shredded through heavy metal tunes like a gang of 30-year-old vets. Video of the performance went very viral, and in July 2014, it was announced that Unlocking the Truth had signed a much-ballyhooed $1.8 million deal with Sony Music Entertainment.
…That $1.8 million contract, like most music contracts, sounds a lot more lucrative than it is.

"The $1.8 million is what happens if you add up all their advances for five records, and it increases in amount with each successive album," says Meyer, who explains that in order to go beyond their advance, they need to sell over 250,000 copies of a single album, which these days is a bit of a pipe dream. "That's what everyone says about the music industry," adds Meyer, "it's got all this glitter on it, but it's always less flashy than it looks."
Read the entire article at The Daily Beast link above. Check out the band way back in their glory-days here…
Stay Awake!
Please subscribe to my YouTube channel where I archive all of the videos I curate at Insomnia. Click here to check out more Music posts