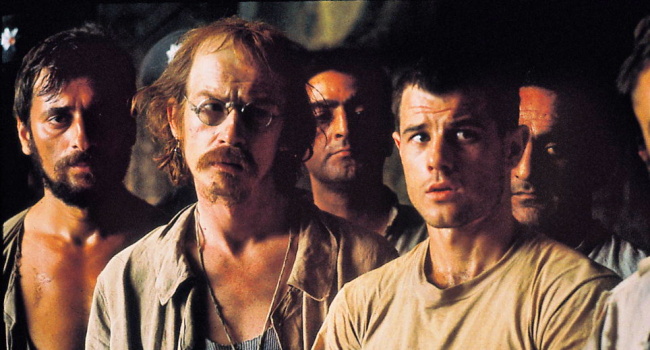 Getting started on the blog this week I was inspired by that Snowden trailer I just posted as well as an article I found while adding pages to my Flipboard magazine.
Before Oliver Stone became one of the most important directors of his generation he was one of the most important screenwriters of his generation — he wrote the screenplays for two of the greatest drug crime films of all time: Scarface and Midnight Express.
I read articles on my tablet phone while I'm making coffee in the morning just like American men used to rise and read the paper that landed on their front stoops. I've got my Flipboard app dialed-in on a stream full of drugs, conspiracies, old school counterculture, new school occultism, brain science, space science, cinema, poetry, contemporary art, street art, vintage erotica, philosophy, artificial intelligence and random recent stories that catch my eye. I've been following the escape, murder, capture and re-incarceration of convicted killers David Sweat and Richard Matt. Along with that story I've been seeing lots of prison culture stuff on the app including this recent piece about a language experiment in a prison in Missouri where they've created a dictionary of prison slang. Here's the word from Salon…
Before they set about compiling a dictionary of prison slang, the inmates at Eastern Reception, Diagnostic and Correctional Center in Bonne Terre, Missouri, used words like viking (meaning a prisoner with poor personal hygiene) and Cadillac (meaning a cup of coffee with cream and sugar) without thinking about it too hard. But when a group of inmates put their private language under a microscope, they realized the way they use language reflects years of institutional history and serves as a unique window onto their experiences of prison life.
The dictionary—which I first heard about thanks to St. Louis Public Radio—came about as part of a prison education program operated by Saint Louis University and was conceived by English professor Paul Lynch, who volunteers at the Bonne Terre prison, a medium-/maximum-security facility. Inmates opted into the project by signing up for a class and worked on the dictionary with Lynch during two-hour sessions once a month.
Lynch said he introduced his students to the idea of creating their own dictionary by having them read part of Simon Winchester's The Meaning of Everything, a book about the creation of the Oxford English Dictionary. The idea, Lynch told me, was to show the inmates that a dictionary is not a book of rules but a description of language as it is used in real life at a particular moment in time. "The goal was to make the students see language as something more fluid and evolving than they're probably accustomed to," he said.
What happened next was essentially a series of classroom debates among inmates: about proper usage, what certain words really mean, and whether some were too outdated to be included. "Guys would get really worked up about it, in a very friendly and constructive way," Lynch said.
These impassioned discussions revealed, among other things, the generational fault lines that divided the inmate population. There were certain words, Lynch said, that older guys knew that younger ones didn't and vice versa. As a 51-year-old inmate named Stuart Grebing told St. Louis Public Radio, "Whether in softball or in handball or at the weight pile or whatever, you hear a conversation go on and you're lost. You don't know what they're talking about."
"One term we debated was dun-dun," Lynch said, explaining that it was short for dungeon and referred to the prison segregation unit, where inmates are kept in solitary confinement. "Only the older guys had any memory of that word being used that way, so we wondered whether we should even include it, because it seemed to be almost gone. But we decided to include it with a note saying that it was almost obsolete."
Another controversy involved the term 12/12, which refers to the date when an incarcerated person becomes completely free—meaning not just out of prison but off parole as well. "There was a big debate about how that word got used grammatically," Lynch said. "The question was whether or not you should say 'What's your 12/12?' versus 'What's your 12/12 date?' Some guys said that was redundant. But others said, if you're working with younger guys who are just learning the administrative ropes, you had to be more clear."
To be more clear, here is a list of just some of the words that made the cut:
kite, n.: An informal message sent by a prisoner. According to Lynch, this is a word that has been picked up by correctional officers at Bonne Terre as well. "It's not uncommon for a supervisor to say, if you have an issue with something, 'just send me a kite.' "

two-for-three, n.: Used in bartering, as in "Let's do a two-for-three: I'll give you three bags of chips later if you give me two now."

convict, prisoner, inmate, n.: These three words are used to distinguish between people based on how long they've been incarcerated and what level of respect they've earned. A convict is someone who's been around the block, knows how to carry himself. An inmate is someone who's new and green. Prisoner is neutral.
jail, v.: Refers to being skillful and considerate in one's approach to being a prisoner or cellmate, as in "That guy doesn't know how to jail."
skate, v.: To be somewhere you're not supposed to be, as in "I was skating yesterday afternoon and got caught."
boat, n.: A plastic bed that is used when the prison is overcrowded.

pumpkin, n.: A term used for new arrivals at Bonne Terre because they wear orange jumpsuits instead of the gray and tan ones that inmates get after they've been processed. (The area where new inmates are processed is called the pumpkin patch.)

Now that you know some of the code that negotiates a life behind bars, here's a story of the story that inspired Oliver Stone's screenplay for Midnight Express. If you thought serving time in a Turkish prison for smuggling hash looked bad in that film wait until you learn the real life story from the delightfully gratuitous Locked Up Abroad and the real life Billy Hayes who lived to tell the tale…
Stay Awake!
Please subscribe to my YouTube channel where I archive all of the videos I curate at Insomnia. Click here to check out more Cinema posts.