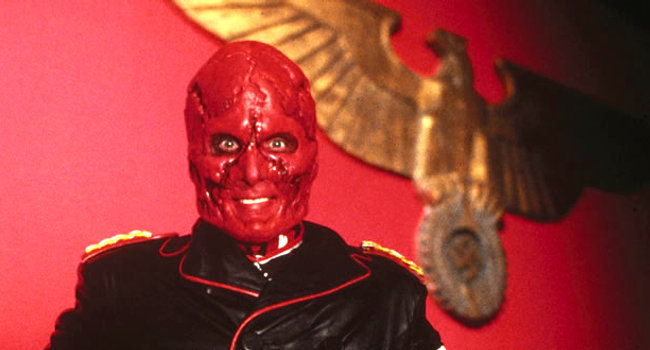 Can you believe it's been 25 years since the Captain America film premiered? No, I'm not talking about the latest pair of franchise-within-a-franchise films in Marvel's contemporary cinematic empire. I'm talking about a direct-to-video version of the Steve Rogers story that took liberties with the shield-slinger's legend to deliver an environmental message back in the days of grunge. Here's the Wiki…
The film was given very negative reviews, holding a 9% 'rotten' rating on the film critic aggregation site Rotten Tomatoes, based on 11 critics (all of whom wrote reviews a decade after release).
In one of the few contemporaneous reviews, Entertainment Weekly critic Frank Lovece wrote, "The movie isn't merely wrong for kids — it opens in pre-war Italy with a sequence in Italian with subtitles, and a machine-gun slaughter — it's just all wrong", and decried the "shapeless blob of a plot" in grading the film an F.
A Blu-ray of the film was released by Shout! Factory on May 21, 2013 as a Collector's Edition which features a widescreen HD presentation and brand new interviews with director Pyun and star Salinger.
I don't want to give away plot points, but suffice to say that fans of the hero's origin story will find this version to be just familiar enough to be baffled by all of the other choices that get made here. As the Shout! Factory release implies, the end results are a trainwreck but not one without its charms, and definitely not anything that could stop our Cap'n! Here's Captain America (1990)…
Stay Awake!
Please subscribe to my YouTube channel where I archive all of the videos I curate at Insomnia. Click here to check out more Cinema posts.