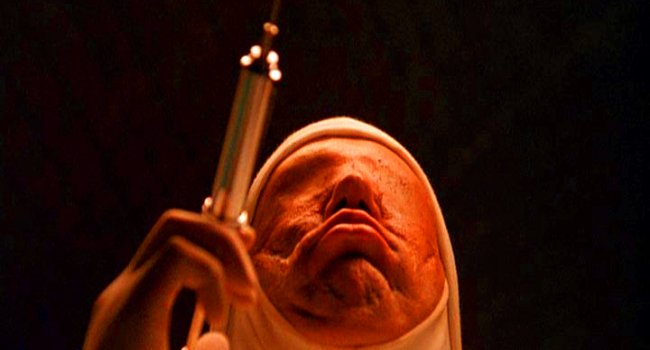 This year we celebrate the 25th anniversary of the psycho/thriller, war flick Jacob's Ladder. With great acting by Tim Robbins and Danny Aiello and its Francis Bacon-inspired visual effects, Jacob's Ladder is one of those movies that takes a seemingly impossible premise and makes it feel very real.
Jacob's Ladder is a film with lots of layers and twists and it's not always easy to tell the difference between Jacob's reality, hallucinations, memories and dreams. On the surface Jacob is a Vietnam veteran who is back home but suffering from exposure to a chemical that was designed to make him and his comrades into frenzied killers.
Of course, Jacob's Ladder is just a movie. But the U.S. armed forces have a bad record for experimenting on their own soldiers with chemicals and chemical weapons. Here's a little bit about the real Jacob's Ladder from the The New Yorker…
In France, the team abandoned the decision to test only foreigners, and surreptitiously gave LSD to Private James Thornwell, a soldier from South Carolina who worked as a clerk at an American military-communications station in Orléans. Thornwell, the only African-American soldier at the station, had a contentious relationship with his superior and had recently been demoted; for these reasons, it appears, he was suspected of stealing a hundred and seventy-two classified documents that had gone missing. For ninety-nine days, members of the Army Counter-Intelligence Corps had interrogated Thornwell continuously. Thornwell later recalled being confined to a small room, where he was kept awake for long stretches and forbidden access to food, water, or a toilet; interrogators told him, "If you talk, you get your physical needs taken care of." He was beaten, and attacked with racial epithets; but he was also told that his interrogators were there to protect him from white soldiers trying to hunt him down, or from assassins working for French intelligence. Thornwell was convinced that he was fighting a war for his own mind. When he could not hold himself any longer, he defecated on an interrogator's desk. To withstand the isolation, he played imaginary chess on a wall, and dictated an improvised novel, just to hear a human voice. But as the days went by he was pulled deeper into a psychological void. According to a report drafted by a psychiatrist Thornwell saw years later, "He became unsure of who he was, where he was, and why all of this was happening."

At some point, Thornwell admitted to taking some of the classified documents—an admission that he later said he made up in order to end his suffering. But what he said did not add up: once, he claimed to have burned some of the classified documents; another time, he said that he tossed them all into the Loire. (More than fifty of the documents had been discovered on the riverbank.) He agreed to be questioned under sodium pentothal, saying that he had nothing to hide; the officers found the results inconclusive. He agreed to hypnosis, and was told that if he lied he would feel pinpricks across his body. When he withheld some information about his life, he felt millions of pins tearing into his skin and in his brain, and screamed in agony. But he said nothing more conclusive about the documents.
At last, after three months of trauma, Thornwell was released, but the Army wasn't done with him. An evaluation by a military psychiatrist found—unsurprisingly, after his ordeal—that Thornwell exhibited an "antisocial personality" with "paranoid trends." Yet, even though the psychiatrist didn't believe that Thornwell had "voluntarily compromised government secret information," he recommended that the experimental interrogations continue. Hypnosis would not work on such a man, he wrote, but "the tension method," in combination with "tension-producing drugs," would be successful. This is where the Special Purpose Team came in.
Shortly after Thornwell was let go—maybe even that same day—he met a man who called himself Fusfield. After introducing himself as a lawyer, Fusfield told Thornwell that he was in grave danger, and that he could help. Thornwell could never recall precisely what happened after his lengthy confinement, but he remembered that the two men had lunch, and then Fusfield drove him to a remote mill house in the wooded French countryside. Along the way, a car began to pursue them. Fusfield told Thornwell that assassins working for the French government had tracked them down. By the time they reached the house—a lone rustic structure by a river—Thornwell's sense of reality had begun to warp. The house's interior appeared to be covered with spiderwebs, and he found himself seated at a desk, facing a small man with pallid green skin. The man, keeping his hands under the table, explained that he and Fusfield had taken tremendous risks to help him, but, before they could take any more, they needed to be able to trust him—they needed to know what had happened to the documents.
Thornwell, weakened by his relentless isolation, knew that he was not himself. "My head was full of the universe," he later told his psychiatrist. "Meteorites were burning inside my head, stars shooting off." He started feeling intense pain and confusion. Time and space tore apart. One moment, it seemed, he was seated at the desk; at another moment, his body had been thrown across the room, and he was being violently crushed against a wall. Suddenly again, he was back in his chair, facing the ashen, alien-like man across the desk, as if he had never left. Thornwell didn't understand LSD, or even that he had been drugged; he had no framework for comprehending what was happening to him. His nerves felt as though electric current were coursing through them, and he became convinced that a magnet was keeping him locked in the chair—that he was being electrocuted through it. He struggled to get up, but the man at the desk told him to sit, and he found that he could not disobey: he had lost any sense that the chair was separate from his body. Thornwell passed out. When he awoke, the following morning, he was in Fusfield's car again, heading back to Orléans. He looked at Fusfield, and he saw the same ghoulish skin that the man behind the desk had. Fusfield handed him a piece of fruit. Then he let him go.
Throughout Thornwell's interrogation, the members of the Special Purpose Team drew his attention to the changes in his perception, and indicated that they had the power to make him permanently insane. After he was let go, he forever had to question whether he had been fundamentally altered. "I felt like my mind was being erased," he said later. Back in the United States, Thornwell could not speak of his experience without descending into hysterical fits of tears—and, even if he could, who would believe him? He drifted in and out of jobs and relationships. Depressed, and deeply suspicious of the people around him, he went for long periods without speaking—until he feared that he would lose the ability altogether—and once refused to see anyone but his doctor for nearly six months. "The irony is that the Army interrogation techniques forced upon him a tortuous state of isolation," his psychiatrist noted. "And the legacy of this is that he now imposes this upon himself." In 1980, two senators from South Carolina, moved by Thornwell's story, succeeded in obtaining a private congressional bill for him. Thornwell was awarded six hundred and twenty-five thousand dollars. "But he still struggled," his lawyer, Harvey Kletz, told me. "His behavior was still aberrant, and I don't think the money in any way changed what burdened him." Four years later, Thornwell's body was found in a swimming pool. His wife speculated that he had died of a seizure, although he had never had one before. He was forty-six years old.
A strange tale of LSD, torture and racism that's scarier than any Hollywood film, here's a 60 minutes profile of James Thornwell that tells the story of the real Jacob's Ladder…
Stay Awake!
Please subscribe to my YouTube channel where I archive all of the videos I curate at Insomnia. Click here to check out more Cinema posts.