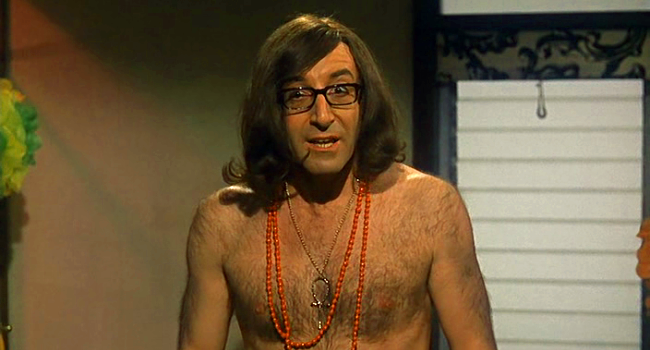 Comic genius and all-around super strange dude, Peter Sellers was born 90 years ago on September 8, 1925, and he died 35 years ago on July 24, 1980. Now that we're somewhere right between these auspicious dates, it seemed like a good time to remember the great jester with this bizarre film about his bizarre life. It's a weird 1969 Peter Sellers documentary, made to promote The Magic Christian. Sellers starred opposite Ringo Starr in that Joseph McGrath-directed film. Sellers portrayed Sir Guy Grand, an eccentric billionaire who plays elaborate practical jokes on people. The critic Irv Slifkin remarked that the film was a reflection of the cynicism of Peter Sellers, describing the film as a "proto-Pythonesque adaption of Terry Southern's semi-free-form short novel", and "one of the strangest films to be shown at a gala premiere for Britain's royal family." The film, a satire on human nature, was in general viewed negatively by critics. Roger Greenspun of The New York Times believed that the film was of variable quality and summarised it as a "brutal satire".
This documentary features appearances by Ringo, Paul and Linda, and John. The documentary was never repeated by the BBC, possibly due to the fact that Peter Sellers thought he came across as depressed — and he's really got something there. Spike Milligan narrates and dissects Peter's persona in the process. An online blurb warns that this documentary includes strong scenes (bullfight, open heart surgery, nudity) and language.
Stay Awake!
Please subscribe to my YouTube channel where I archive all of the videos I curate at Insomnia. Click here to check out more Cinema posts.