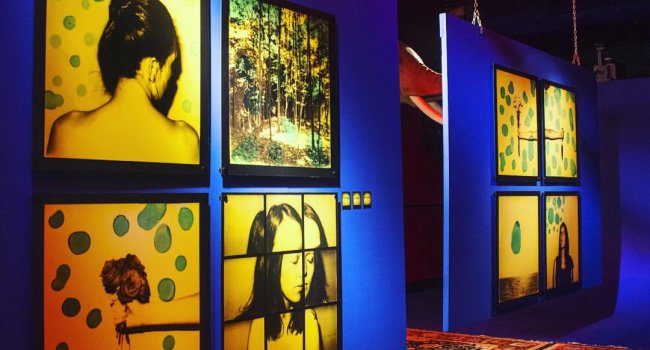 Yesterday night I went to an exhibition of instant photography at Third Man Records here in Nashville. The show was a collaboration between the label, The Impossible Project and three of Third Man's shutterbug allies to show-off The Impossible Project's new Third-Man-inspired, limited edition black-and-yellow instant film. The Impossible Project is the only company in the world that makes instant film for Polaroid cameras. Here's a bit about the new film from their site:
This is limited edition film that develops in only two colors: black & yellow, the signature colors of Third Man Records. The label, founded by Jack White, shares our belief in the importance of analog making. Using the same chemistry as our Generation 2.0 black & white film, photos develop fast, and the contrast is high. Blacks are rich and deep, and the matt black frames make the impact of that yellow even stronger. This is film to make some noise with.
The photographers are New York-based Patrick Pantano who shot the cover photos for the White Stripes' Elephant and White Blood Cells albums; musician and tour photographer David Swanson who has been on the road with Jack White and previously worked as Terry Richardson's assistant, and Third Man's own Angelina Castillo.
"Photography using mechanical means is a beautiful art form. Digital pictures are very portable and easy to make happen, but you can't hold the photo in your hand, or put it in a family album. T here's a romantic feeling of pulling a photograph out of a polaroid camera, holding it your hands and showing it to others. It can't be replaced or replicated." — Jack White
The early evening happening began with a bit of confusion over a locked door at the Third Man digs down on 7th Avenue South, but once gallerygoers began trickling in the party went off without a hitch. The bar was serving Jackalope's Thunder Ann ale — my favorite local beer? The meatballs were great.
Of course, we were all there to look at the photography and it was a pretty impressive display. Two floating blue walls had been suspended in the middle of Third Man's Blue Room, dividing the space and splitting the show into three distinct sections that meant you could only see the work of one photographer at a time. It was a thoughtful choice as it actually made the room seem larger and separating the works in this manner helped to emphasize the distinctions between images that threatened to look too similar in that all the photos were large, black-and-yellow images printed on thin sheets of metal.
Patrick Pantano often combines painting techniques with his photography and the organic, bluish blobs that decorated his images made them the most recognizable works in show. His photo of an empty wooded space looked like a still from some forgotten horror movie — the blue stains recalling the color-shifting you expect to find in vintage film. The photo paired nicely with another of a hand holding a knife. I'd hang those side-by-side, creating a diabolical double feature.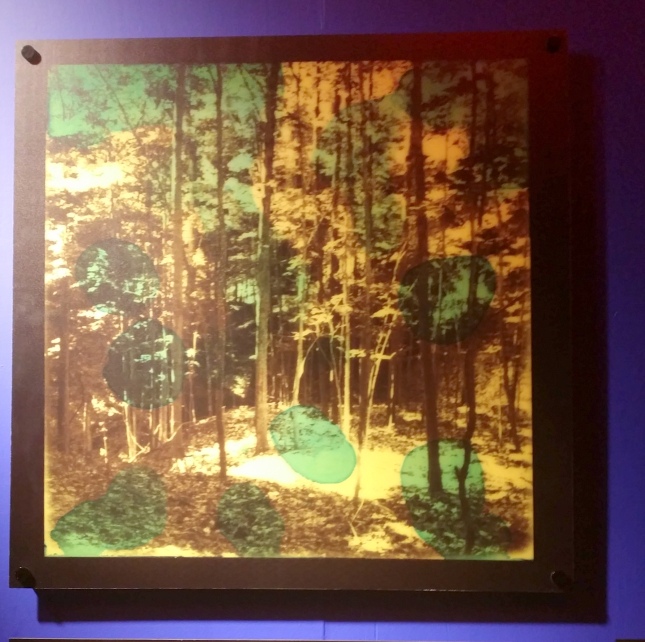 David Swanson's summer-friendly images pictured a close-up of a hand holding a baseball and a sun-drenched portrait of White's supergroup project, The Dead Weather. My favorite of the bunch was a simple snap of a four-decker cheeseburger sitting on a paper wrapper. The pic was surprisingly sensuous for a monochrome image and it had me heading back to the meatballs for seconds. Of course, this kind of felt presence is what film-photography in general — and instant photography in particular — is all about, and Swanson's towering meat sandwich captured that spirit better than any other image in the exhibit.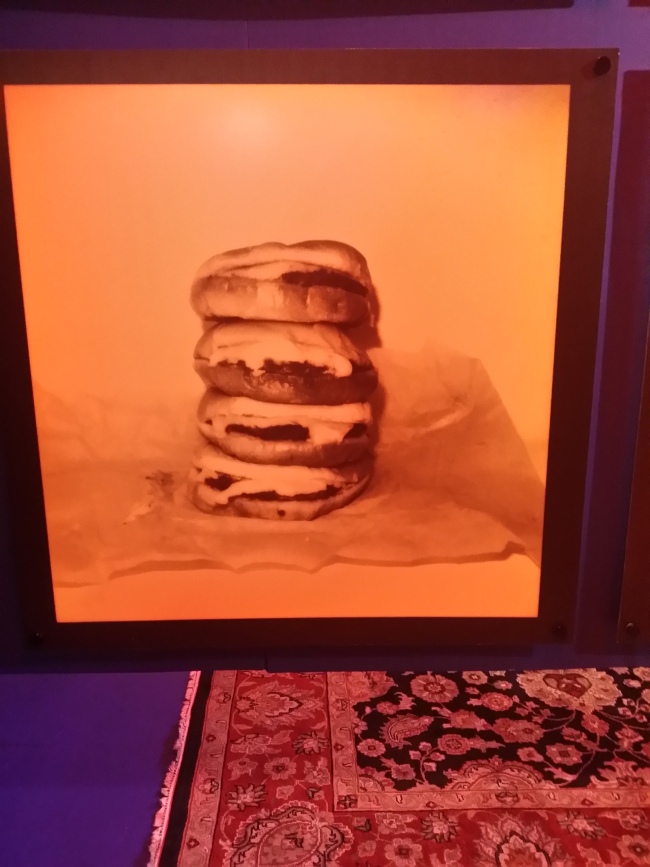 That said, it was Angelina Castillo who stole the show with her photograph of a zebra-striped plant. That might sound like a boring subject, but the arrangement of the leaves, Castillo's composition, the designs created by the stripes, and the contrasting intensity of the blank-and-yellow colors created an op art effect that found this image pulsing and vibrating with eye-fooling intensity. I've been a fan of Castillo's since her Polaroids began showing up in local publications and it was no surprise to see her making good use of the Impossible Project's newest offering.
The show is open during Third Man's regular hours and will remain on display through next Wednesday, September 16.
Stay Awake!
Please subscribe to my YouTube channel where I archive all of the videos I curate at Insomnia. Click here to check out more Art posts.