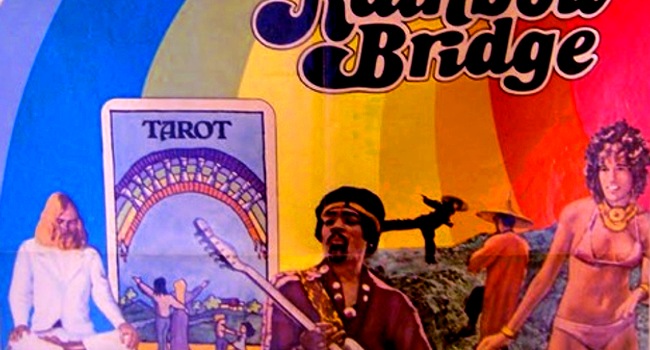 Rainbow Bridge is an odd little cinematic curiosity from the early 1970′s. Nowadays it's become a cult fave with its over-the-top grooviness, New Age sensibilties and inclusion of the last footage of Jimi Hendrix shot before he died.
The Wiki has the rundown…
Rainbow Bridge is a 1971 film directed by Chuck Wein about different countercultural figures interacting on the Hawaiian island of Maui. According to author Harry Shapiro, "the idea was to shoot an antidote to Easy Rider showing the positive side of the youth movement".[1] Wein described it as "a kind of space-age Candid Camera. We're going to place Pat [New York model Pat Hartley, the protagonist] in all kinds of real-life situtations, and film what happens. We're going to shoot a lot of film and just see what comes out of it".
Filmed with non-professional actors and without a script, it features improvised scenes with a variety of characters. When it became apparent that it was floundering, producer Michael Jeffery brought in his client Jimi Hendrix to film an outdoor concert (July 30, 1970). Hendrix's heavily edited (no complete songs) performance appears near the end of the film. Rainbow Bridge was a critical failure and has been re-released on video tape and DVD formats. Although it only contains 17 minutes of Hendrix performing, it continues to attract attention as his second-to-last American concert and the last one filmed.
Here's Rainbow Bridge…
Stay Awake!
Please subscribe to my YouTube channel where I archive all of the videos I curate at Insomnia. Click here to check out more Cinema posts.