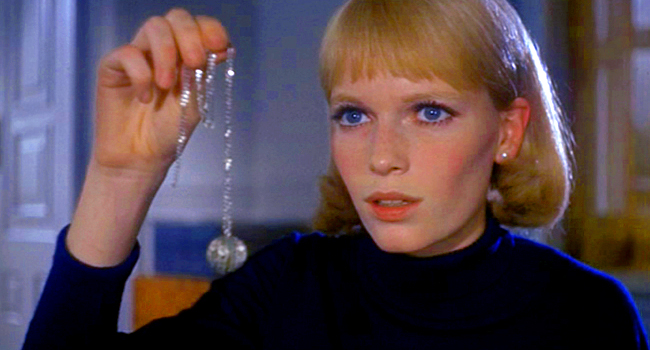 Now that we're beginning the last week before Halloween I want to get back to the spooky postings. Here's a piece that first appeared in my Moving Pictures column in The Contributor. This is my breakdown on the must-see horror movies that are currently streaming on Netflix…
Now that we're into the month of October, my movie cravings have taken a turn for the worse – it's all goblins, gore, slashers, and scares lately. Scary movies are central to my celebration of the spookiest season of the year, and streaming services like Netflix make it easy to custom queue just the right frights for you.

A quick scroll through the site's cinematic chillers finds classics mixed with cult films alongside Sharknado, offering everything from invaders from space to babies from hell to zombies, vampires and werewolves. To make your search less scary, here are some of my top picks for Halloween viewing. These flicks range from spooky fun to totally terrifying so be sure to read the descriptions and check the ratings before watching.
You've been warned.
Rosemary's Baby (1968) The classic from director Roman Polanski tells the tale of a young couple beginning their life together: Rosemary and Guy have just moved into their new apartment, Guy's acting career is taking off, and Rosemary discovers she's pregnant. What could possibly go wrong? Polanski is slow to spook here, but by the film's over-the-top crescendo viewers feel just as disoriented and distraught as poor Mia Farrow who's dynamite as Rosemary. The lullaby theme song here is unforgettable, and Ruth Gordon's turn as Rosemary's busybody neighbor won her an Academy Award for Best Supporting Actress.
Never Sleep Again: The Elm Street Legacy (2010) Whether you saw the original Nightmare on Elm Street in the theater or you're a newbie who's wondering "Just what's so scary about Freddy Krueger?" this documentary is for you. Clocking in at four hours in length and covering all eight of the Elm Street feature films, this doc manages to plumb the deepest depths of even the most obscure – sometimes terrible – entries in the Krueger canon while remaining thoroughly entertaining throughout. For fans of these flicks it's a great reminder of why Freddy scared us so much in the first place. If you've never visited Elm Street before, this flick will definitely help you stay awake.
Sleepy Hollow (1999) – In Tim Burton's take on one of my favorite Halloween tales, Johnny Depp plays Ichabod Crane, a detective attempting to use budding forensic science against local superstition in the tiny village of Sleepy Hollow after a series of grisly beheadings attributed to the titular horseman. Burton does a great job of capturing the lurid look of old Hammer horror films and Depp's balancing between inquisitive investigator and inept outsider is totally charming. Look for a cameo by Martin Landau who had an Academy Award-winning turn playing horror film star Bela Lugosi in the Burton/Depp classic Ed Wood.

The Omen (1976) – The Omen regularly appears on lists of the best horror films ever made and who can forget a movie that features a woman hanging herself at a child's birthday party? Starring Gregory Peck and Lee Remick, this tale about a tragic child swap unfolds into something like "A Portrait of the Antichrist as a Little Boy," and that's really why it's so scary: There is something uniquely terrifying about evil children, and the Omen sits at the top of the heap of killer kids flicks.
From Dusk Till Dawn (1996) – In movies like Pulp Fiction and Inglourious Basterds, Quentin Tarantino remakes tried-and-true genre films into high art, celebrating the tropes of crime and war flicks while simultaneously defying other conventions and upsetting audience expectations. With From Dusk Till Dawn, Tarantino wrote an unexpected mash-up of a criminals-on-the-run tale and a vampire flick. It confused its original audience, but went on to inspire sequels and a television show on director Robert Rodriguez's own El Rey cable network. The first half of this one is as clever as the second half is gory, and the whiplash-inducing shift in the action still catches me by surprise. Watch for cameos by Cheech Marin who plays three different characters here.
Henry: Portrait of a Serial Killer (1986) – Long before Michael Rooker infuriated audiences as the violent, racist Merle Dixon in The Walking Dead, he played a serial killer named Henry in one of the most disturbing movies I've ever seen. The film was shot on 16mm in less than a month for a budget of just $110,000. It toured film festivals throughout the late 1980′s but was deemed so controversial that it struggled to find a distributor. The MPAA gave it an "X" rating. Of course all of this just added to the film's reputation as a cult classic which reads like a day-in-the-life character study of a deeply disturbed maniac.
To get you started, here's