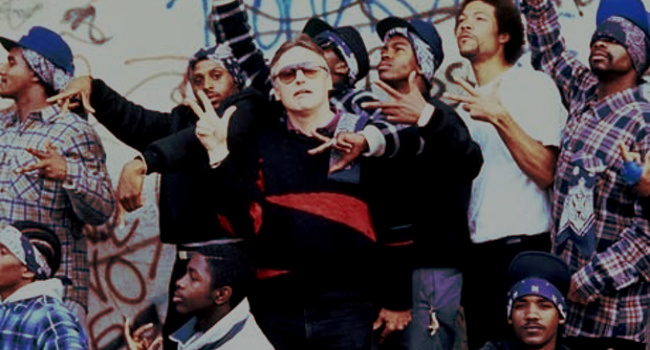 Spike Lee's controversial new film, Chi-Raq shines a spotlight on the out of control gang violence in Chicago. In 1988, Dennis Hopper similarly pointed a camera at the gang violence in his own Los Angeles backyard. Hopper's film Colors was a gritty-for-the-time cop drama starring Robert Duvall and Sean Penn, but its most important contribution was Hopper's insistence on realistically representing West Coast gang culture, introducing much of America to the Crips and the Bloods for the first time. The movie's first script was actually set in Chicago before Hopper flipped the locations.
Here's Den of Geek on the flick…
By the spring of 1988, several high-profile cases had brought the gang violence in Los Angeles to national attention. The fatal shootings of an 18-year-old college student and her 12-year-old neighbor were, according to a newspaper report, the 113th and 114th gang-related murders to have occurred in LA County since the start of the beginning of 1988. The previous year saw 387 people killed in gang-related incidents.
Against this backdrop came Colors, Dennis Hopper's unflinching and disturbingly authentic crime drama starring Robert Duvall and Sean Penn. Some of the film's harshest critics called it exploitative and voyeuristic – a calculated attempt to cash in on the real violence that was regularly making headlines. Colors' detractors were given further fuel when reports began to circulate of violent incidents occurring in and around cinemas showing the film. Colors was even withdrawn from some Los Angeles theatres following the murder of a 19-year-old from Stockton.
But far from being an exploitation movie rushed out to cash in on headlines, Colors was only made after several months of careful research. Screenwriter Michael Schiffer, when ordered to rework Richard Di Lello's original and very different script set in Chicago, spent weeks interviewing LA cops and gang members. He transcribed the recordings and paid careful attention to their slang and speech patterns, even working some of their jokes and anecdotes into his script. Schiffer's approach was much like Michael Mann's during the writing of Heat; both rode with police officers during their patrols of the city streets and took inspiration from what they saw.
The resulting screenplay was perfect for Dennis Hopper, an actor and director who was as unpredictable and uncompromising in real life as he was as an artist…
Here's a long interview with Hopper, illuminating his career as an actor, director, writer and photographer, culminating with the making of Colors…
Stay Awake!
Please subscribe to my YouTube channel where I archive all of the videos I curate at Insomnia. Click here to check out more Counter Culture posts.