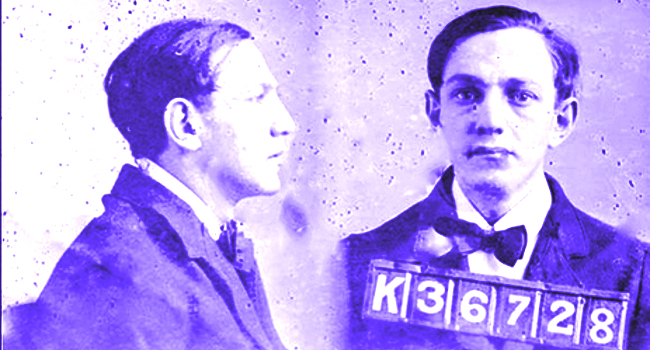 After being mortally shot in a restaurant urinal, German-Jewish American gangster Dutch Schultz slipped into fever and hallucination before dying. Schultz's surrealistic screed of last words has since become a thing of literary legend. Here's the Wiki…
Schultz's last words were a strange stream-of-consciousness babble, spoken in his hospital bed to police officers who attempted to calm him and question him for useful information. Although the police were unable to extract anything coherent from Schultz, his rambling was fully transcribed by a police stenographer. This includes the famous:
A boy has never wept…nor dashed a thousand kim.
But the entire text (linked below) is much more rambling, for example:
You can play jacks, and girls do that with a soft ball and do tricks with it.
Oh, Oh, dog Biscuit, and when he is happy he doesn't get snappy.
One of his last utterances was a reference to "French Canadian bean soup" (French Canadian pea soup is a popular dish that is still produced as canned goods by many food companies).

Schultz's last words inspired a number of writers to devote works related to them. Beat Generation author William S. Burroughs published a screenplay in novel form entitled The Last Words of Dutch Schultz in the early 1970s, while Robert Shea and Robert Anton Wilson connected Schultz's words to a global Illuminati-related conspiracy, making them a major part of 1975′s The Illuminatus! Trilogy.
Burrough's screenplay tells a strange tale of its own. Again, the Wiki…
Despite the title, very little of the screenplay deals with Schultz's cryptic words. Although Burroughs specifies that a recording of Schultz's dying words should be playing throughout the film as the soundtrack, virtually nothing which is actually depicted onscreen has anything to do with the real Schultz's dying monologue. Burroughs creates his own dying words for Schultz to actually speak, and which reflect Burrough's narrative; occasionally, these made-up snippets of speech include Schultz's actual words. Similarly, large segments of the story are told from a third-person perspective, as opposed to being told from Schultz's perspective.
The screenplay is made up of a series of loosely connected vignettes in roughly chronological order. It begins from the point of view of a dying Dutch Schultz, looking up at two police detectives. He has a brief flashback to his own shooting; from there, the movie makes a transition to Schultz's memories of childhood, with the remainder of the movie a series of loosely interconnected vignettes in chronological order depicting Schultz's childhood and rise to power. Occasionally, there are brief, surrealist digressions depicting real events which occurred during Schultz's life (such as the Stock Market Crash), interspersed with equally surreal yet seemingly unrelated digressions involving Burroughs' own fictional characters. A lengthy segment is dedicated to Schultz hiring a carnival sideshow freak who can hypnotize people by speaking phrases which plant subliminal messages; Burroughs inserts this fictional character into Schultz's legal team during his income tax trials, and credits him with helping Schultz avoid prison time. Large segments are dedicated to Burroughs' own creation, "Albert Stern," a morphine addict who randomly appears at intervals throughout Schultz's life and who ultimately attempts to take credit for his murder.
Although there have been occasional reports over the years of filmmakers wanting to adapt Burroughs' story for the screen, to date no one has seriously taken on the project. For a brief period, Dennis Hopper owned the rights to the film, but nothing ever came to fruition. The closest it has ever come to being filmed is a 2002 Dutch short combining live action and rotoscope animated scenes. The short only features portions of Burroughs' script, with some segments varying slightly from the source material. The film features Rutger Hauer as the voice of Schultz.
Here is The Last Words of Dutch Schultz…
Stay Awake!
Please subscribe to my YouTube channel where I archive all of the videos I curate at Insomnia. Click here to check out more Counter Culture posts.