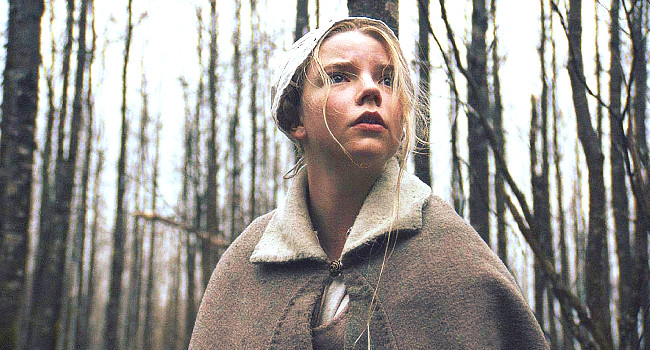 If you live in Nashville and you're planning to see a movie over the weekend pick up a copy of The Contributor and read my review of a fascinating new film called The Witch. Here are a few of my thoughts…
Winter is a notoriously slow season for cinema — studios are busy promoting last year's awards contenders and preparing to release their summer blockbusters. Another seasonal trend is the obvious autumn strategy of releasing horror films close to Halloween. With both of these in mind, The Witch caught me by surprise: It's an intense and intensely realized supernatural horror movie released this month, but you might still be feeling its heebie-jeebies when October comes around.
William is an English colonist living with his family at a Massachusetts plantation. When he questions his brethren's commitment to the Gospel, William, his wife, and their five young children find themselves isolated in a broken-down farm at the edge of the woods.
If that sounds like a perfect moment to cue a creepy-as-hell soundtrack, you're right.

Composer Mark Korven's score of screaming strings, the sound design, and the audio mix all combine to create an ominous, paranoid mood here – something wicked this way comes and you can hear it coming. The spooky sounds marry malevolently to the minute detailing of Craig Lathrop's production design, and Jarin Blaschke's cinematography which captures both foggy forests at night as well as candlelit interiors that recall the Old Master paintings of the era – the film is set in 1630, presaging the Salem witch trials six decades later. The exacting, pervasive and sustained atmospherics here are the better part of the reason why writer/director Robert Eggers won the Directing Award at the 2015 Sundance Film Festival.

The realism conjured by The Witch's mise en scène supports the dedicated performances that Eggers inspires in his actors. Ralph Ineson's William speaks in a sepulchral voice that makes even his offhand statements sound like the pronouncements of an executioner. His wife, Katherine (Kate Dickie), is not fit for frontier life and she takes her fear and anger out on her hapless husband. The couple's young twins (Ellie Grainger and Lucas Dawson) are as creepy as you'd expect the twins in a colonial horror film to be, and Harvey Scrimshaw is superb as the stoic oldest son, Caleb, who writhes through one of the most unsettling demon possession sequences in recent memory. Thomasin, the oldest child, is a pubescent girl with an independent streak. Played with verve by Anya Taylor-Joy, Thomasin veers from pushy to petty to sad to loving the way any modern teenage girl might. And the few instances when Taylor-Joy's gestures and inflections betray her as a young 21st century actress mostly serve to remind viewers just how absolute Eggers' era-evoking prestidigitation is.

Unexplained happenings lead the family to believe they've been cursed by a witch in the woods. William blames the sin of his pride and Katherine regrets the sin of her disrespectful subversion of her husband's plans to make their lives on the farm work despite the fact that his crops are failing, his family is starving and their very souls seem threatened by the vengeful spirit their sin has summoned.
Continue reading at The Contributor…
Here's a featurette about The Witch…
Stay Awake!
Please subscribe to my YouTube channel where I archive all of the videos I curate at Insomnia. Click here to check out more Music posts