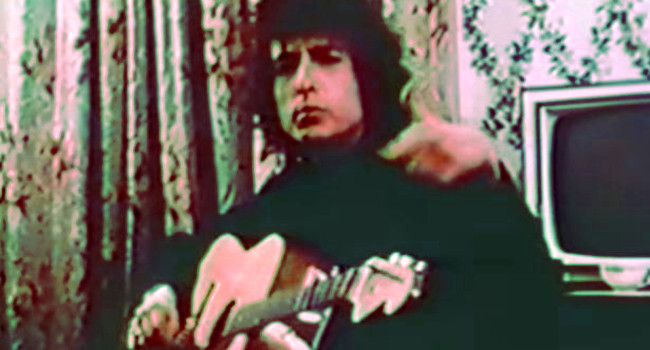 A quick Google search finds Blonde on Blonde on most every top rock albums shortlist and it always places high in rankings of Dylan's best. I take Highway 61 Revisited over Blonde, but Blonde is probably in any Dylanologist's top three.
Blonde's epic poetics in songs like "Visions of Johanna" and "Sad-Eyed Lady of the Lowlands" are always mesmerizing, but the goofball wordplay in songs like "Rainy Day Women #12 and #35″ and "Leopard-Skin Pill-Box Hat" shows that Dylan was always cool enough to know that it was only rock 'n' roll, and once Dylan and producer Bob Johnston added a rollicking assembly of Nashville studio pros to the album's mix it signaled Dylan's completed transformation from protesting folkie to rock superstar.
Blonde on Blonde was released in 1966, the same year that D.A. Pennebaker filmed his second Dylan concert tour film, Eat the Document. Pennebaker's Don't Look Back chronicled Dylan's 1965 solo tour. That film was directed by Pennebaker and released in 1967. Docment's documenting of the 1966 tour wasn't released until 1972. Document was directed by Dylan with Pennebaker playing cinematographer. Here's the word from Wiki…
Though shooting had completed for the film, Dylan's July 1966 motorcycle accident delayed the editing process. Once well enough to work again, Dylan edited the film himself. ABC rejected the film as incomprehensible for a mainstream audience.
It has never been released on home video and prints are rarely screened in theaters. Some footage from Eat the Document was used in Martin Scorsese's 2005 documentary on Bob Dylan, No Direction Home.
Here's a track list:
Tell Me, Momma
What Kind Of Friend Is This?
I Can't Leave Her Behind
Like A Rolling Stone
I Still Miss Someone
I Don't Believe You
Ballad Of A Thin Man
Just Like Tom Thumb's Blues
Baby Let Me Follow You Down
Mr. Tambourine Man
One Too Many Mornings
On A Rainy Afternoon
Here's an hour-long version of Document from my channel on YouTube…
Stay Awake!
Please subscribe to my YouTube channel where I archive all of the videos I curate at Insomnia. Click here to check out more Music posts.