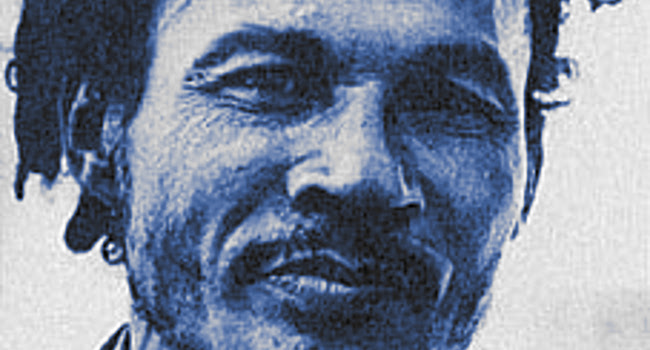 Bob Kaufman was a Beat poet who might be thought of as the Anti-Ginsberg: The Howl author's legendary hustling made sure that the world new his name along with those of contemporaries like William S. Burroughs and Jack Kerouac, and it's not overstatement to say that Ginsberg was every bit the carny-huckster-PR man that he was the poet. Kaufman, on the other hand, seemed determined to disappear, and his talent for obfuscating his own art nearly made a documentary about the writer and his work an impossibility. Here's the word on a new movie about Kaufman from the Harvard Film Archive…
The long-awaited second feature film by Billy Woodberry recovers the legend, legacy and ultimately tragic life of Beat-poet Bob Kaufman (1925-1986), skillfully melding recitations of his verse together with rare archival photographs and interviews to offer a moving homage to the artist often called the "Black American Rimbaud." Like Bless Their Little Hearts (1984), Woodberry's celebrated neo-realist debut film, And When I Die, I Won't Stay Dead chronicles with great sensitivity an unwritten chapter in the history of marginalized America, shedding new light on Kaufman's still underappreciated poetry and the difficult struggles of the half-black, half-Jewish and fervently left-wing poet. A poet of the oral tradition, Kaufman's verse was neither written nor recorded and threatened to disappear entirely if not for the valiant efforts of his second wife to publish her husband's work. Equally fleeting was the figure of Kaufman himself, who once declared that his "ambition is to be completely forgotten" and who, at the height of his creative powers, took a self-imposed and apparently unbroken ten-year vow of silence in haunting lament for the assassinated John F. Kennedy.
Here's the trailer featuring a reading from Kaufman…
Stay Awake!
Please subscribe to my YouTube channel where I archive all of the videos I curate at Insomnia. Click here to check out more Counter Culture posts.