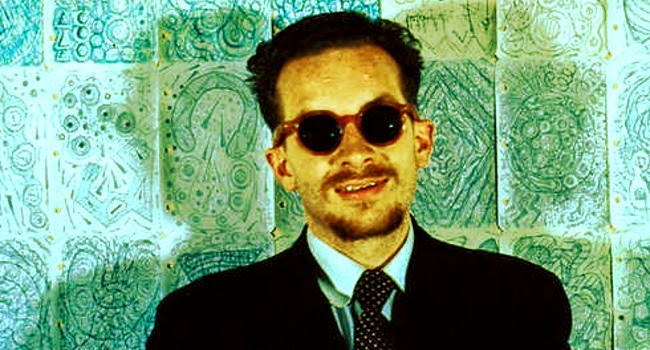 The other night I woke up before my alarm and started listening to a podcast on my phone in hopes of getting back to sleep for a little while longer. At some point the conversation on this 'cast turned to the fact that artist, filmmaker, curator Harry Smith had been working on a movie about John Dee's Enochian Tablets before he died. I looked all over the internet and couldn't find much about the project, but I did find a fun section on Wiki that talks all about Smith's interest in the occult.
BTW I just donated $20 bucks to Wikipedia and if you like this blog I hope you'll consider supporting them as well. Thanks!
Here's the lowdown on Smith's scrying the higher planes…
Smith said he had become acquainted with the Lummi Indians through his mother's teaching work and claimed to have participated in shamanic initiation at a young age. He recorded Lummi songs and rituals using homemade equipment and notation of his own devising and developed an important collection of Native American religious objects.
Tarot cards were another of Smith's interests. A set of "irregularly-shaped Tarot cards" he designed was apparently used for the degree certificates for a branch of the Ordo Templi Orientis founded by occult "magus" Aleister Crowley.[34] In the late 1940s in California Smith is said to have worked with the reputed occult "magus" Aleister Crowley's one-time acolyte Charles Stansfeld Jones,[citation needed] a convert to Roman Catholicism, and later with Jones's "trusted student", Albert Handel[35] in New York.
Smith frequented the Samuel Weiser Antiquarian Bookstore, a used book store on New York's "Book Row" that specialized in works on comparative religion, hermeticism, and the occult. The store also had a publishing house, Weiser Books, which used Smith's designs for its paperback edition of Aleister Crowley's Holy Books of Thelema.[34]
Sanders recounts that Smith was the key advisor for Allen Ginsberg and the Fugs's effort to levitate The Pentagon. "In the fall of 1967," he wrote:
a bunch of us decided to exorcise the demons from the Pentagon as part of a big demonstration against the Vietnam War. (You can get a flavor of that day from Norman Mailer's Armies of the Night.) I was in charge of coming up with a structure for the Exorcism. I knew Harry would know what to do so I conferred with him. He gave me the basic outline, which was to use the symbols of the four directions, and to use the symbols of earth, air, fire, and water. He also suggested adding a cow, to represent the Goddess Hathor. We did have a cow prepared, painted with mythic symbols, but the police stopped it from getting near the Pentagon. The Exorcism was duly recorded by WBAI's Bob Fass, and can be found on the Fugs album Tenderness Junction.[34]
Smith also studied the Enochian system in depth and as it was recounted by Edward Kelley and John Dee, and as later elaborated upon by the Hermetic Order of the Golden Dawn and the Ordo Templi Orientis. He also compiled a concordance of the Enochian language with the aid of Khem Caigan, his assistant throughout much of the 1970s and early 1980s.[citation needed]
In 1986 Smith was consecrated a bishop in the Ecclesia Gnostica Catholica, which claims William Blake and Giordano Bruno in its pantheon of saints. Smith had long been a familiar figure in the New York branch of Ordo Templi Orientis. After his death, Smith's branch of the sect performed a Gnostic Mass in his honor at St. Mark's Church in the East Village.[34]
I just recalled some music from a post from last July. Here's a bit about the record from the folks at Smithsonian Folkways…
In 1964, Harry Smith (who compiled the Anthology of American Folk Music) was held for a week in the Anadarko, Oklahoma, jail on suspicion of stealing guns, and there he met several Kiowa Indians who introduced him to peyote rituals and songs of the Native American Church. In 1973, Smith returned to Anadarko to record. He decided to set up his equipment in singers' homes or his hotel room, rather than at an actual ceremony, because the Kiowa often sang the songs in casual settings; he also would be able to record commentary.
Here's The Kiowa Peyote Meeting…
Stay Awake!
Please subscribe to my YouTube channel where I archive all of the videos I curate at Insomnia. Click here to check out more Music posts