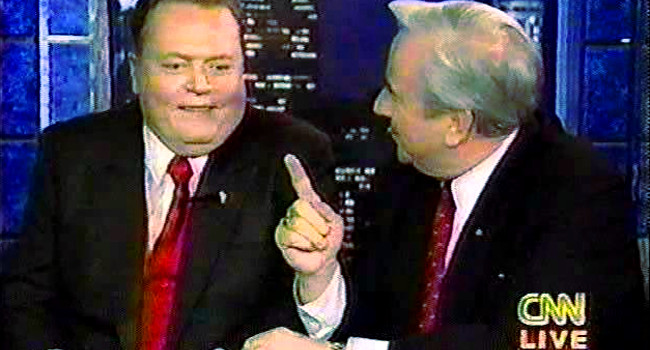 Looking back three decades to 1987, this is the perfect time to remember that Supreme Court case that saw televangelist conman Jerry Falwell clashing with that sleaze slinging champion of the First Amendment, Larry Flynt. This case wasn't really about obscenity, it was about libel laws, and the protections afforded to parody. In the age of Trump, Twitter and SNL this is an important anniversary of a fascinating case that reminds us that jokes aren't against the law, and that offensive messages must always be protected if the voices of progress are to remain free…

While Hustler magazine has always been known for its explicit pictures of nude women and for what many consider crude humor,[2] the prominent fundamentalist Protestant minister Jerry Falwell objected to the parody ad the magazine printed in 1983 targeted at him, in which Falwell related having an incestuous encounter with his mother in an outhouse.[3]
The satire at issue was a takeoff of an advertising campaign for Campari, an Italian apéritif.[4] The real ads were tongue-in-cheek interviews with celebrities talking about their "first time".[5] The ads, which played off the double entendre in the headline ("X talks about his first time"), initially appeared to discuss the star's first sexual experience before revealing that the discussion actually concerned the subject's first time drinking Campari.
The Hustler parody, created by writer Terry Abrahamson and art director Mike Salisbury,[6] featured a picture of Falwell, and a fictional "interview" in which "Falwell" describes his first sexual experience as occurring "with Mom" in an outhouse while both were "drunk off our God-fearing asses on Campari."[7] In the spoof interview, "Falwell" goes on to say that he was so intoxicated that "Mom looked better than a Baptist whore with a $100 donation," that he decided to have sex with his mother since she had "showed all the other guys in town such a good time", and that they had intercourse regularly afterwards.[8] Finally, when asked if he had tried Campari since, "Falwell" answered, "I always get sloshed before I go out to the pulpit. You don't think I could lay down all that bullshit sober, do you?" The ad carried a disclaimer in small print at the bottom of the page, reading "ad parody—not to be taken seriously."[9] The magazine's table of contents also listed the ad as "Fiction; Ad and Personality Parody."[10]
Falwell sued Larry Flynt, Hustler magazine, and Flynt's distribution company in the United States District Court for the Western District of Virginia for libel, invasion of privacy, and intentional infliction of emotional distress.[11] Before trial, the court granted Flynt's motion for summary judgment on the invasion of privacy claim, and the remaining two charges proceeded to trial. A jury found in favor of Flynt on the libel claim, stating that the parody could not "reasonably be understood as describing actual facts about [Falwell] or actual events in which [he] participated."[12] On the claim of intentional infliction of emotional distress, the jury ruled in favor of Falwell and awarded him $150,000 in damages.[12]
Read more about the case in this description of this YouTube video: hilarious footage featuring Flynt and Falwell arriving at the court and pleading their cases to the press…
Please subscribe to my YouTube channel where I archive all of the videos I curate at Insomnia. Click here to check out more Counter Culture posts.