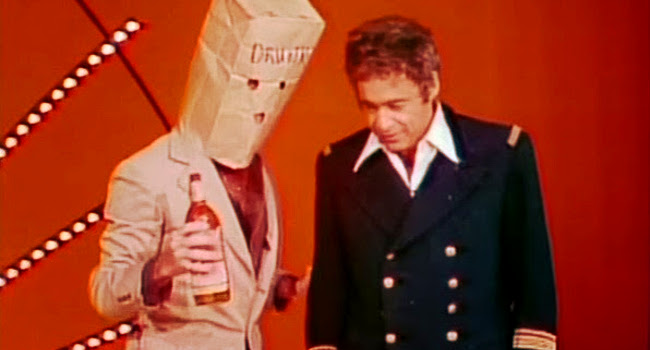 George Clooney made a remarkable directorial debut fifteen years ago when he helmed the biopic of Gong Show creator Chuck Barris. Confessions of a Dangerous Mind is based on Barris' autobiography of the same name. The film is remarkable for Sam Rockwell's portrayal of Barris, Clooney's use of in-camera effects that mirror the kind of lo-fi tech of TV programs of the 1970′s, its use of documentary techniques in a narrative feature, and for its seamless and sidesplitting weaving-together of Barris' entertainment career story and his outrageous claims that he was also a CIA assassin at the time that he was hosting The Gong Show.
Here are some words about the film from a 2002 article in Time…
There are a lot of ways to tell the truth, and Chuck Barris has avoided most of them. His 1984 book Confessions of a Dangerous Mind was subtitled An Unauthorized Autobiography, and it claimed that while he was creating game shows like The Newlywed Game and The Dating Game and hosting The Gong Show, he was a contract CIA assassin — a claim he still refuses to say was untrue. The movie version, directed by George Clooney and written by Charlie Kaufman (Being John Malkovich, Adaptation), which opens nationwide on Jan. 24, has tales the book never even imagined. "He wrote stuff out of nowhere," Barris says. "My mother never dressed me like a girl. I was never on drugs. The part about my father being a serial killer? That's Charlie. He writes such good stuff."
Barris, 73, wrote the book partly because he's a huckster: he faked a resume for NBC, peddled game shows even though he didn't like them, and God knows what he has told his three wives. But he also fabricated his life because it might have been the best way of getting at the truth. The truth was that back when he was the Jerry Springer of his day, he couldn't stomach being attacked for doing something he considered harmless. So Barris wrote a book in which his first assignment purportedly was to collect intel on Martin Luther King Jr. "People forget the point of the book," he says. "Here I was, getting crucified by critics for entertaining people and getting medals for killing them. That just didn't seem logical."
Chuck Barris died on Tuesday.
Here's an episode of The CIA and Hollywood that dives behind the scenes of the film, and between the pages in Barris' book to find the truth beyond the gong…
Please subscribe to my YouTube channel where I archive all of the videos I curate at Insomnia. Click here to check out more Cinema posts.