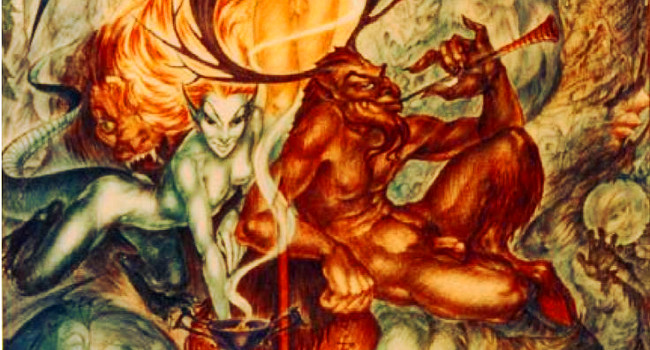 This year we commemorate 60 years of Rosaleen Norton's art and pioneering occultism. Norton was an Australian witch and a visionary painter born on October 2, 1917. We're jumping the gun by remembering Norton's contributions to art and magick at the beginning of spring, but maybe we'll plan multiple posts counting down to Norton's autumn birthday. Here's a bit from the Witchcraft and Witches site…
Her paintings and drawings for the most part were depictions of the gods, demons and other entities with whom she claimed to communicate, the god Pan being her personal favourite, full of grotesque detail and writhing, interlocked forms. By 1951, she had become well-known as an artist around Kings Cross, the bohemian centre of Sydney, where her murals adorned cafés and galleries traded briskly in her popular and provocative works.
However, in August 1951, four of her pictures were seized by the police and Norton was prosecuted on the allegation that her works could "deprave and corrupt the morals of those who saw them", and that they were inspired by works of medieval demonology. The next year, a book of her pictures and poems by her young boyfriend Gavin Greenlees, published by Walter Glover, was banned as an obscene publication, and was only re-published in the more liberal atmosphere of 1982.
Due to her notoriety, she soon became a favourite with the tabloid press, which began referring to her as the "Witch of King's Cross", and dark stories of witchcraft, black masses, sexual magical rites and Satanism began to appear regularly in Australian newspapers and magazines, and Roie Norton became a household name. Throughout the 1960s, she was notorious as the supposed head an active coven of witches in King's Cross, although the coven never really amounted to much more than a few masked friends gathering in her small flat for occult talk and the occasional friendly ritual.
Here's a super informative video about Norton despite the robot voice…
Please subscribe to my YouTube channel where I archive all of the videos I curate at Insomnia. Click here to check out more Counter Culture posts.