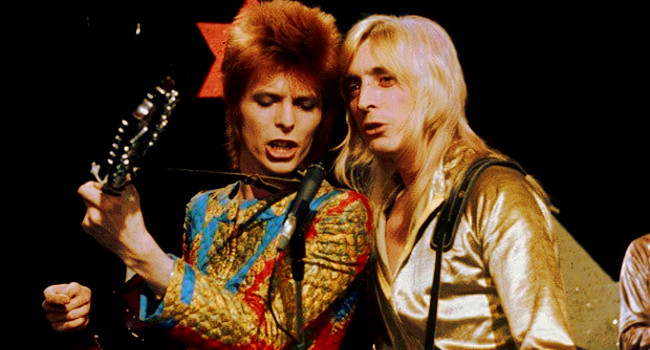 Yesterday the folks over at Dangerous Minds posted about an upcoming Mick Ronson documentary which had mysteriously appeared on Vimeo ahead of its release which is being hinted at for later this year. Beside Bowie: The Story of Mick Ronson spotlights the man who played Keith to Bowie's Mick, and whose guitar playing, onstage persona, and behind the boards chops helped to define the glam rock era and beyond…
Mick Ronson might be considered the #1 Spider from Mars. He certainly will go down in history as one of David Bowie's chief collaborators and one of the people most responsible for the glam sound.
Ronson worked on several of the core albums of Bowie's early period, including most obviously The Rise and Fall of Ziggy Stardust and the Spiders from Mars as well as The Man Who Sold the World, Hunky Dory, and Aladdin Sane. He played on All the Young Dudes by Mott the Hoople and Transformer by Lou Reed, on which he was also a producer. In 1974 Ronson released his first solo album, Slaughter on 10th Avenue on which appeared the Elvis cover "Love Me Tender" and "Growing Up and I'm Fine," co-written by Bowie.
"All the Young Dudes," "Perfect Day," and "Walk on the Wild Side" are just a few of the legendary songs Ronson was significantly involved with. He also worked with Bob Dylan and Morrissey. Sadly, Ronson passed away of liver cancer on April 29, 1993, at the age of 46.
Of course, by the time I saw the post the video had already been yanked, but it's the kind of thing I'd probably rather see in a big theater with a loud sound system anyway. In the meantime here's a long interview with Ronson from 1992 to whet your appetite for the new film…
Please subscribe to my YouTube channel where I archive all of the videos I curate at Insomnia. Click here to check out more Music posts