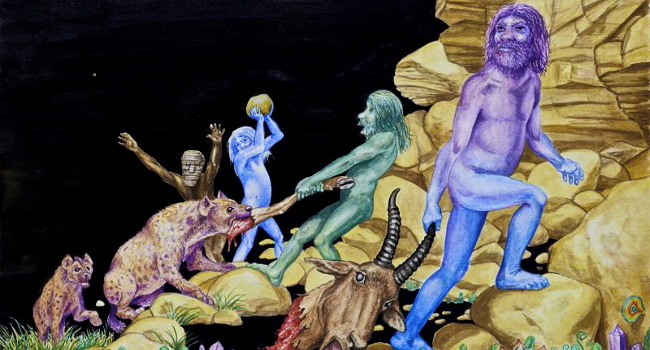 (Image: "Archaic Revival" by Dani Tull)
After some recent posts about the Summer of Love, Brian Jones, Anita Pallenberg, and Swinging London this video caught my eye while I was working on sprucing up my YouTube Channel. You could paint a pretty full picture of the Summer of Love and the culture it inspired just looking at drugs and the Vietnam War. Of course drugs and war were nothing new in 1967, and LSD and marijuana were just the latest forms of mind-expansion for the contemporaneous iterations of humanities most ancient poets, philosophers, visionaries and mystics.
In The Archaic Revival, Terence McKenna wrote:
And the last sane moment we ever knew was on the plains of Africa 15,000 years ago rocked in the cradle of the Great Horned Mushroom Goddess before history, before standing armies, before slavery and property, before warfare and phonetic alphabets and monotheism, before, before, before. And this is where the future is taking us because the secret faith of the twentieth century is not modernism, the secret faith of the twentieth century is nostalgia for the archaic, nostalgia for the paleolithic, and that gives us body piercing, abstract expressionism, surrealism, jazz, rock-n-roll and catastrophe theory. The 20th century mind is nostalgic for the paradise that once existed on the mushroom dotted plains of Africa where the plant-human symbiosis occurred that pulled us out of the animal body and into the tool-using, culture-making, imagination-exploring creature that we are.
Here's a trippy documentary tracing human appetites for altered states from the Dawn of Man to the present…
Please subscribe to my YouTube channel where I archive all of the videos I curate at Insomnia. Click here to check out more Counter Culture posts.