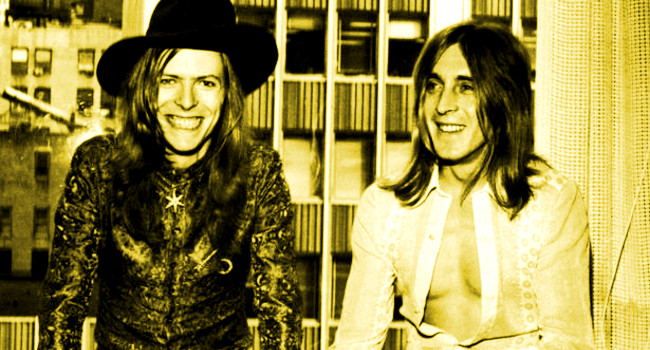 Between 1969 and 1970 David Bowie and his producer Tony Visconti began searching for a distictive guitar player who could match their creativity in the studio as well as play a magnetic foil to Bowie live on stage. The new documentary Beside Bowie: The Mick Ronson Story takes viewers back to the Swinging London of the 1960′s to tell the origin story of the titular guitar player who played the Keith to Bowie's Mick during David Jones' first great era as rock 'n' roll's slipperiest chameleon.
This tale is told through interviews with eye witnesses like Bowie's ex-wife Angie and British music luminaries like John Peel, Rick Wakeman and Ian Hunter. Bowie himself makes an appearance of a kind in the form of a disembodied interview recorded before his death last year. The voiceover narration sounds a bit slow and sleepy and viewers are aware that they are listening to Bowie near the end of his days, but Bowie's commentary is invaluable here and his praise for his guitarist, co-producer and arranger is unreservedly enthusiastic.
Ronson played with bands like The Rats and Julia's Eyes before hooking up with Bowie and Visconti to play a set on John Peel's radio show the very afternoon when they'd all first met. Of course, that's how it works with rock 'n' roll — that's how it works or it doesn't. Ronson only played on one track of Bowie's Space Oddity LP, but he joined in the final mixing and mastering process and became a key figure behind the board as well as on the stage and in the studio. Next came The Man Who Sold the World (1970), Hunky Dory (1971), The Rise and Fall of Ziggy Stardust and the Spiders from Mars (1972), and Aladdin Sane (1973).
Beside Bowie revisits Ronson's one-of-a-kind guitar tone and style, his contributions to Lou Reed's classic Transformer album, his own solo career, his stand with Mott the Hoople, his work with Bob Dylan, his production of John Cougar's chart-topping hit "Jack and Diane," and his production of Morrissey's Your Arsenal. But, most importantly, Beside Bowie makes a convincing case that Ronson played a direct and indispensable role in making David Bowie into a star, and that he was never duly credited or financially reimbursed for his crucial contributions. At least this film can serve as a kind of witness to Ronson's genius.
Here are Ronson and Bowie reunited in 1993 during the sessions for Bowie's Black Tie White Noise LP…