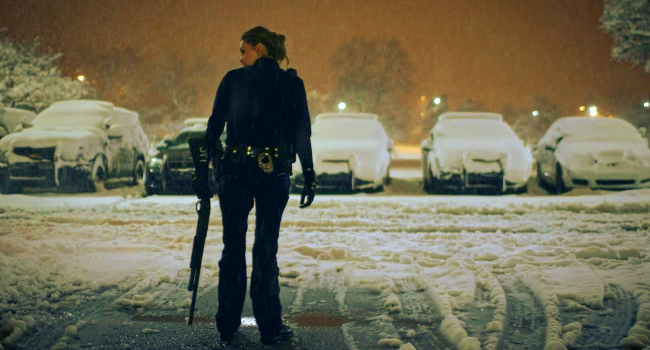 In 2016's T-Rex: Her Fight for Gold directors Zackary Canepari and Drea Cooper profile Flint, Michigan-based Olympic-gold medal boxer Claressa Shields. While they were shooting the fighter in her hometown, the filmmakers found themselves in the midst of a man-made disaster and its aftermath when Flint disconnected from Detroit's water system in 2014 and started supplying citizens sinks with water from the Flint River. The plan was to save money, but the result was a massive health crisis that erupted in reports one might expect from a poor rural region in a developing nation, but not from a city that once boasted the highest median income in the state of Michigan during General Motors' mid-20th century heyday.
Now Canepari and Cooper have created a directorial triumvirate with Jessica Dimmock to tell the story of the embattled Flint Police Department and their attempts to protect and serve a population that has lost their faith, trust and hope in the institutions that failed them for decades before actually poisoning them. Flint Town is an eight episode Netflix series that would pair nicely with the T-Rex feature. That film stays tightly focused on its battling, but emotionally bruised heroine, but all around the edges of the film's frames the poverty, addiction, crime, abandoned buildings, dead dreams and lost souls that populate the city constantly threated to come into focus. Flint Town responds to its subject with an approach that's both broad and deep, and deeply respectful to all of the officers and citizens who choose to believe in the future of a place that alternately resembles a trauma ward, a powder keg, a haunted house.
Jim Jarmusch's 2013 vampire film Only Lovers Left Alive cast Detroit as an undead wasteland and that movie's footage of cars driving through Detroit's unlit, abandoned neighborhoods is as surreal as it is striking. Flint Town features a few scenes shot during the daytime – a late afternoon Christmas tree lighting at city hall, and police cadets cracking off pistol rounds on a shooting range. But most scenes in this series are shot at night with blocks of empty buildings illuminated by the spotlights of police cruisers with cameras mounted behind the colorful twirling lights on their roofs. The lights flash off of darkened windows at crime scenes and saturate the overgrown tangles of leaves, weeds, grass and garbage that threaten to reclaim the city.
Flint Town gives audiences a feel for the physical place that is the city of Flint, but the movie is recommended for the portraits of the people it sculpts over the course of its run. We get to know the officers on the force in Flint – ten years ago there were 300 cops on the city's streets, but when the first episode begins there are less than 100 officers serving a city of 100,000. We meet exhausted veterans, fresh-faced recruits, and volunteer deputies who are called-up to reinforce the ranks as part of a kind of armed neighborhood watch program. We meet the embattled police chief who is replaced by another veteran cop who vows to take on Flint's criminals in a frontal assault with a new tactical team of elite troopers. We get to know the mayor and the city council and the television journalist who covers the local crime beat. The whole affair feels similar to a show like The Wire which immersed viewers in every cog in the machine of a fictionalized Baltimore. But there's nothing make believe about Flint Town where babies are born, jobs are lost, homes are burned, and the bodies of gunshot victims are found frozen in the snow in the middle of the night in one of the most dangerous cities in America.
In 2016, Claressa Shields became the first American Olympic boxer ever to win back-to-back gold medals, but for Flint – and for the people profiled in Flint Town – the fight never seems to end. This series is gripping, smart television, but it's not feel good programming, and the empathy the filmmakers bring to this project might understandably leave viewers feeling nearly as frustrated and hopeless as the people they watch on the screen. But maybe that's the point. In late January of 2017, about three years into the water crisis, it was announced that the water in Flint was finally safe for drinking and bathing. It might have been good news, but lots of folks in Flint didn't believe it. If you watch Flint Town you might not believe it either, but you will believe in these people and in this place.
Flint Town is currently streaming on Netflix
Please subscribe to my YouTube channel where I archive all of the videos I curate at Insomnia. Click here to check out more cinema posts.