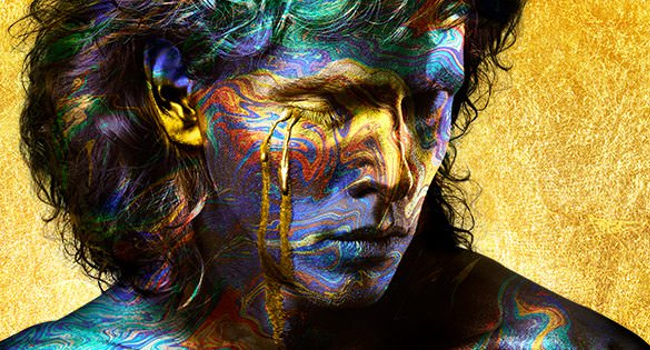 The premiere episode of Trust begins with a scene of John Paul Getty III running through a sunflower field in a panic. The scene cuts to a Hollywood party at the Getty mansion in 1973 where a band is playing Pink Floyd's "Money" before George Getty kills himself with a barbecue fork to the chest in the middle of a dark garage. George was high on a deadly mix of uppers downers and alcohol. This new anthology series on FX tells the sex drugs and rock 'n' roll story of one of America's richest families, and the scandal that rocked their oil empire at the dawn of the Age of Aquarius.
Created by Simon Beaufoy and directed by Danny Boyle — the team that brought us 127 Hours and Slumdog Millionaire — Trust offers a peek at American royalty through the lens of a central storyline about a teenage JP Getty III getting perpetually wasted and laid before being kidnapped by Roman Mafiosi and testing the mettle, love, and resources of his extended family including his tight-assed grandfather and namesake, John Paul Getty I.
The big attraction here is the casting of Donald Sutherland as JPG I and Brendan Frasier as a cowboy hat-wearing family problem fixer named Fletcher Chase. I'm planning to cover the series' episodes here on Insomnia because of the countercultural milieu that JPG III wades through with his bell bottom jeans and long red locks. JPG III is played by Harris Dickinson, and his performance along with those of Sutherland and Frasier form a triumvirate of hubris and humor at the center of this true crime drama that revels in the lifestyles of the decadent and infamous. Sutherland is particularly effective as the family's parasitic patriarch, and the script serves him especially well in a soliloquy on an oil rig in the middle of the ocean where he explains how the family's oil-shipping-refinery-gas station-hotel businesses avoid paying any taxes by operating at a loss on paper. JPG III likens the arrangement to a spider's web while Sutherland laughs through a leer.
In the first episode JPG III appears at his grandfather's English estate which he shares with a harem of girlfriends. He befriends the old man through their mutual appreciation of art and JPG III gains his namesake's trust before the publication of a European sex magazine reveals that the boy has fallen for the same sex and drugs vices that killed his uncle and debilitated his father — JPG II befriended the Rolling Stones and partied with them in Morocco. After his grandfather reneges on paying his debts to the Italian toughs, JPG III returns to Rome in hopes of outrunning his family name and his personal troubles.
One of the most effective ways the series evokes its period milieu is through its killer soundtrack which includes tunes by Pink Floyd, the Rolling Stones, David Bowie and Argent's "Hold Your Head Up" which pulses through the first episode's closing scene when gangsters catch up with JPG III.
I've been looking forward to this series for months now and this first episode did not disappoint. More on the next episode next week.
Please subscribe to my YouTube channel where I archive all of the videos I curate at Insomnia. Click here to check out more occult posts.