Back in the late 1990s one of the most impressive sites in Nashville's art scene was the Tennessee Fox Trot Carousel. The kiddie ride was designed by Nashville artist Red Grooms and it featured whimsical and even grotesque chimeras like Captain Tom Ryman fused with his own steamboat or H.G. Hill monstrously combined with one of the shopping carts from his eponymous chain of grocery stores. The carousel celebrated notable and heroic Tennesseans and it was a hit with little kids whose ride donations funded the upkeep of the beautifully bizarre contraption at its home on Nashville's riverfront. But after Opry Mills mall stopped its water taxi service to downtown Nashville the ride became neglected, and it's been in storage since the state museum took ownership of the Tennessee Foxtrot Carousel Foundation — and its debt — in 2003.
Of course the Tennessee State Museum is getting a brand new home, and the carousel could get a new life in its own dedicated building near the new museum. However, that's going to take a lot of money. Catch up on the story of the carousel with this great radio report from WPLN Nashville Public Radio. And join Nashville artists and art lovers for the Free the Carousel Art March this Sunday afternoon in downtown Nashville…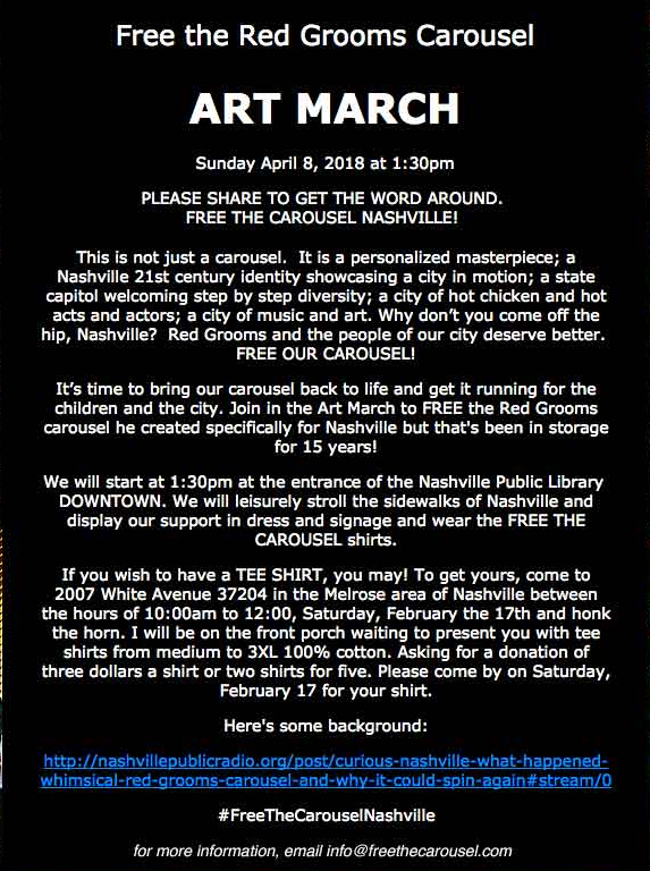 Red Grooms was a pop artist who moved to Manhattan in the late 1950s, and collaborated and exhibited with pals like Alex Katz, Jim Dine and Claes Oldenberg. Fellow Nashville artist Myles Maillie is the organizer behind the march. Check out the official site for more information.
Please subscribe to my YouTube channel where I archive all of the videos I curate at Insomnia. Click here to check out more art posts.