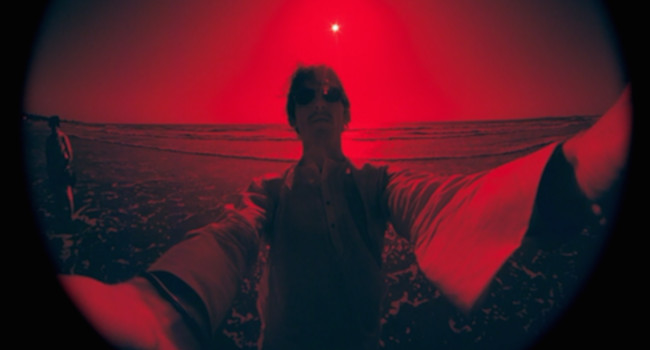 If George Harrison was alive he'd be 75 years old. It'd be interesting to hear what he thought of 2018, but for now all we have are our memories of the man and his music. Harrison might have been the most widely creative of all of The Beatles. Harrison was a very good songwriter, but, more importantly, he had a very distinctive voice as a tunesmith. Who else could have written "Here Comes the Sun," "My Sweet Lord," or even "Got My Mind Set On You?" It was the same case with his guitar playing. In an era featuring the most dynamic, and creative guitar heroes of all time you could pick out George's unique tone and signature licks just as easily as Clapton's or Townsend's. Of course, I admire artists who aren't hemmed in by medium or milieu and Harrison seemed capable of making art wherever he was with whatever was at hand. I found a great example of this on Open Culture over the weekend. They have a cool piece about Harrison's photographic self portraits which the Quiet Beatle took using a psychedelic fisheye lens. The images serve as a unique visual diary of Harrison's first visit to India…
Harrison had principally embarked to study sitar under Ravi Shankar and learn yoga, but this was also a period of self-discovery and escape from, as he says, the "mania." Traveling, as he always did, with a camera, he documented his journey. His pictures are far from ordinary tourist images.

While he describes in writing the "mixture of unbelievable things" he saw, he just as often turned the camera on himself, his photographic introspection made even more pronounced by his use of a fisheye lens…
Behind his steady, serious gaze open up vistas that presage the breadth and depth of his immersion in Indian spiritual practices. Whatever one thinks of his conversion, there's no doubt it was sincere, and lifelong. Not long after this first trip, at the age of 24, he wrote to his mother, "I want to be self-realized. I want to find God. I'm not interested in material things, this world, fame." Harrison expressed the very same mystical aspirations in his final, 1997 interview, still playing and singing with his mentor Ravi Shankar.
Check out the rest of the article and more of Harrison's photos. And here is a doc about Harrison's music and his spiritual path…
Please subscribe to my YouTube channel where I archive all of the videos I curate at Insomnia. Click here to check out more occult posts.
Join our Patreon campaign to receive exclusive, personalized, patrons-only art and music giveaways, and become an insider in this creative practice that keeps Insomnia awake.
Support independent art, music and writing at:
Bitcoin: 39tcfRTLCyeAD7kmYuxJviFiJP5hBUNHJk
Ethereum: 0x14Ba8044FF25BfDe2b62eFC6d21d7435DeB31796