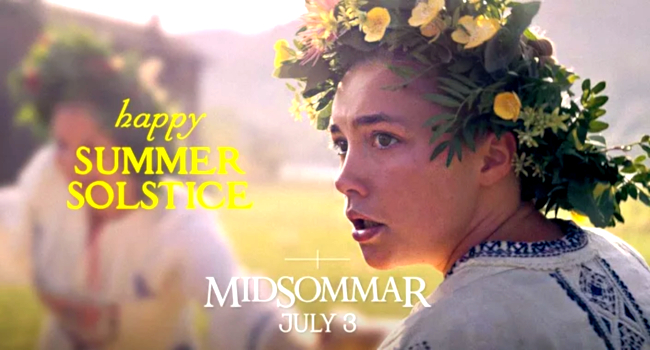 The film Hereditary was scary successful last year. Writer/director Ari Aster's feature debut delivered an incendiary performance by Toni Collette and a tightening noose of a story that gradually strangled viewers in supernatural sights, occult symbols, real life tragedies and heavy themes about the generational traumas that can ripple though family lines. Hereditary is a work of art that transcends the horror genre, and it belongs in the same conversation as The Shining and The Wicker Man. The Wicker Man is the ultimate example of the folk-horror sub genre, and while Hereditary eventually found its way to a pagan place, Ari Aster's new film is one long fertility rite freak-out, and it's probably the best bad boyfriend revenge movie we'll see this year.
Christian (Jack Reynor) and Dani (Florence Pugh) are a young couple on the rocks. Christian is sort of a shiftless jerk who can't decide what his graduate thesis should be. He's been with Dani for four years, but he constantly considers breaking up, but he constantly doesn't have the courage to do that. He can't remember how long they've been together and even forgets her birthday. Christian is a boy-man who won't commit to decisions because he doesn't want to face their consequences. That said, Dani is not an easy person to be with – her family brings sky-high drama, and she's steadily popping anti-anxiety meds and sleeping pills throughout the film. Christian should leave Dani in the first act of Midsommar so he and his buddies can go stag on a secret trip to a summer solstice festival in Sweden. He should be the selfish loafer that he really is and leave Dani and her troubles to their own fates. Instead he chickens-out and passive-aggressively takes his frustrations out on her. He claims to apologize but doesn't say sorry and he gaslights her until she's the one apologizing to him. Dani joins Christian and the guys on their trip to the communal Swedish farm where their friend Pelle (Vilhelm Blomgren) grew up.
Midsommar's greatest strength is its ravishing visuals. Cinematographer Pawel Pogorzelski points his camera at a frozen Swedish forest in the throes of a howling twilit blizzard in the film's first frames. The shot gives us foreboding trees, ominous winds and announces the central trope of folk horror: the isolated landscape. It's a great opening, but this is a movie that takes place in Sweden over the summer solstice when there are only a few hours of darkness at night. One of Midsommar's gimmicks is that it's a horror movie taking place in broad daylight and the beauty of the Swedish countryside, the colorful designs decorating the farm buildings, and the embroidered robes and masks worn by the revelers positively sparkle in all that mountain majesty. Add to these colorful sights throbbing and shimmering psychedelic hallucination effects and a totally disorienting upside down camera shot that announces the group's arrival at the festival and there is plenty to trip out on here.
Unfortunately, Midsommar disappoints in fundamentals like story and characters. Aster's characters are exactly the "smart ass," "nerd," "jerk," personas we find in the most cliché horror films where we know all those city kids are going to go into the countryside to die. Aster could have set the audience up with those expectations, but that would result in shock or surprise or some other experience that you won't find here. Midsommar is a new skin for an old ceremony. It dresses up like a folk horror classic, but it's better enjoyed as a simple, predictable female revenge film that hinges on a combustible third act performance from Pugh.
Here's a great short introduction to the folk horror sub-genre and the revival we're witnessing in pictures like Midsommar…
Please subscribe to my YouTube channel where I archive all of the videos I curate at Insomnia. Click here to check out more occult posts.
Join our Patreon campaign to receive exclusive, personalized, patrons-only art and music giveaways, and become an insider in this creative practice that keeps Insomnia awake.
Support independent art, music and writing at:
Bitcoin: 39tcfRTLCyeAD7kmYuxJviFiJP5hBUNHJk
Ethereum: 0x14Ba8044FF25BfDe2b62eFC6d21d7435DeB31796