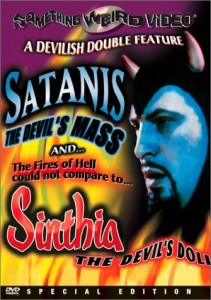 This 1970 documentary film by Ray Laurent profiles the Church of Satan and its founder, Anton LaVey.
Satanis: The Devil's Mass features footage of church rituals, interviews with church members and, of course, plenty of LaVey monologues, explaining what Satanic philosophy is all about. We hear some of LaVey's spooky organ playing and get a tour of his art collection — including a peek at LaVey's own work.
The real gems here are the interviews with neighbors, Catholic clergy and Mormon missionaries who offer equal parts outrage, disgust and amusement at the odd goings on at the church's infamous headquarters.
Stay awake!
Watch this performance of my OccupySong at Occupy Congress in DC!
Stream or download my brand new OccupySong right here!