As some of you may know, I'm currently a Writer in Residence at the Main Library in Nashville, TN. This means I've been spending a lot of time downtown, close to my various beats near the 5th Avenue galleries and the art spots in The Arcade; blocks from The Contributor offices, and in eye-shot of Legislative Plaza where I had direct access to the goings-on during Occupy Nashville's stand there.
I'm also very close to the Bank Gallery on 3rd Avenue. Bank has been a part of Nashville's First Saturday Art Crawl in the past, but this month all of my inquiries about their August exhibition went unanswered and they were not included in my "Crawl Space" column in the Nashville Scene. I turned my preview in before I ran into a man on 6th Avenue with an unusual name: Fritz Hats.
Hats introduced himself as a friend of a friend — Todd Greene, who maintains a studio in the same building as the Bank Gallery. "Odd," I thought. I'd never heard Greene say a word about Hats. However, Hats seemed nice enough — dressed in a dark suit with a dark tie, Hats was mostly bald and while his wrinkled brow and spotted neck made him appear like an older man, he had a propulsive power in his gait and I struggled to keep up with him as we practically sprinted the three blocks toward the Bank's entrance.
This unexpected manner of moving and the plastic, aquamarine shoulder bag that Hats carried were the only signs I'd seen that there was anything unusual about the man. No other animal on the planet can trump the presence of actual danger with a kind of petrified denial that humans might employ at that moment when they first feel the snare go taut. Hats opened the door, turning with a smile. Without a question in my mind, I stepped inside.
Arriving at the gallery, Hats dropped his bag while he locked the entrance. Going downstairs to the gallery, everything had changed since my last visit. The mural that Greene had created to encompass every inch of the gallery's walls was nowhere to be seen. A clean coat of white paint left no trace — it was as if nothing had ever been there. The white expanse no longer held images, but three dimensional forms jutted out from it and into the open space of the gallery. Even the ceiling was infested with long-hanging tendrils that seemed to threaten me as I stepped forward for a closer look.
That's when I started to get scared. My tour of the gallery was accompanied by Hats's running commentary about his relationship to Greene, but something wasn't right. Hats wasn't aware of the almost manic habit Greene has had of changing homes as often as he changes the oil in his car. He mistakenly identified Greene's child by the wrong gender. Hats also talked about Greene's breakneck bike-riding in Chicago — clearly confusing Greene with his sometimes-studio-partner Andrew Harding who recently returned to Nashville from the City of Big Shoulders.
At that moment that I got the oddest feeling: Hats may have been an artist, but he certainly wasn't a human. It's hard to describe the dread that came over me. It was like experiencing the "uncanny valley" that robot scientists refer to at that moment when one's suspended disbelief comes crashing down at the notice of the slightest, unnatural discrepancy in the demeanor of an otherwise thoroughly-convincing android.
Instinctively, I rushed back toward the stairs, feeling both the sensation that I knew the space by heart and that I had never been there before. I ran over that comfy couch in the center of the room and past a pile of magazines that looked like they'd been set aside for recycling in some art project. I shot around the railing and onto the steps like a space craft careening around a planet, trying to build enough momentum to make the nearest star. I sprinted up and into the darkened hallway where I saw the bag Hats had been carrying before we'd arrived. I grabbed the bag, lowered my head and crashed straight into the locked door. One window let go in a shower of shimmering shards before it danced on the steps in front of the gallery in a cacophony of panic and confusion. I worked the lock frantically and shouldered my way through the swinging gauntlet and into the street.
I sprinted up to 6th Avenue just in time to catch the Number 2 bus back across town. I caught my breath before I noticed the smell of anise emanating from the bag. Curious, I opened it up expecting to find a stash of black licorice or maybe even an impulsively stowed bottle of absinthe — the cap not properly secured before Hats stuffed it back in his sea-colored container. Reaching into the bag I found the only thing inside of it: A digital camera.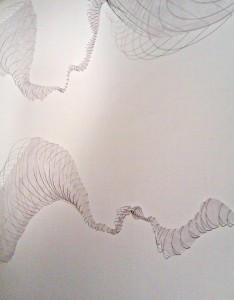 When I got home I found an email from Todd Greene inviting me to an exhibition and a concert at the Bank Gallery this Saturday night at 226 Third Avenue North. The email mentioned that Greene's band Bulb would play a set at 10 p.m., but there was no effort to answer my most burning question: Who is Fritz Hats!
Stay awake!
Watch this performance of my OccupySong at Occupy Congress in DC!
Stream or download my brand new OccupySong right here!