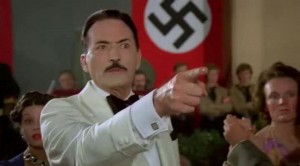 Hollywood usually blows it when it comes to conspiracy theory movies, but in 1978 they got it right. Here is Wiki's take on The Boys from Brazil:
Young, well-intentioned Barry Kohler (Steve Guttenberg) stumbles upon a secret organization of Third Reich war criminals holding clandestine meetings in Paraguay and realizes that Dr Josef Mengele (Gregory Peck), the infamous Auschwitz doctor, is among their number. He phones Ezra Lieberman (Laurence Olivier), an aging Nazi hunter living in Austria, with this information. A highly skeptical Lieberman tries to brush Kohler's claims aside…
Featuring a great cast and a zany story line with a now-campy-seeming style, Boys has it all: evil Nazis, vengeful Jews, South American locales, aging civil servants, genetic manipulation, Steve Guttenberg, and all those blue-eyed boys. Most importantly, Boys understands that first rule in making a good conspiracy theory film: The theory must be true.
Brought to you by the Sleepless Film Festival, in it's entirety, The Boys from Brazil, 1978
Stay awake!