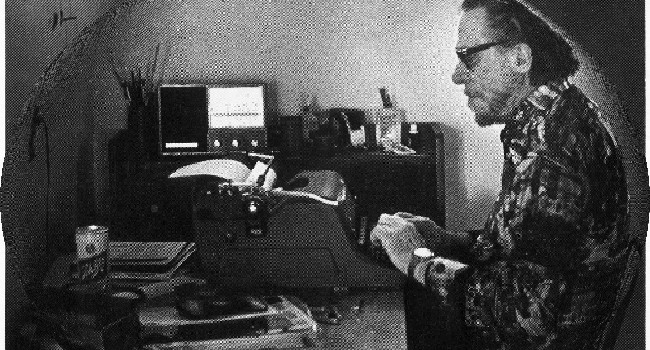 Film director Barbet Schroeder's nearly four hours of interviews with the late poet Charles Bukowski have taken on an air of legend since their initial release on VHS in 1987. Various segments from the captured conversations have appeared on YouTube in the past, but this is the first time I've found the entire interview available as one streaming video, connected by the somber piano score that accompanied the original — the music was the sign-off tune for the German television station that aired the footage in 52 separate segments.
Schroeder shot the interviews over three years leading up to the filming of Bukowski's autobiographical screenplay Barfly, which was also released in 1987. This version was culled from a reported 64 hours of footage, and it finds Schroeder and Bukowski talking about alcohol, violence, writing and women, and even includes a tour of Buk's childhood home. Some of this footage ended up in the excellent documentary Born into This including the infamous scene of Bukowski kicking and chasing after his future wife Linda.
The Charles Bukowski Tapes has become a cult classic and it's a real thrill to share these with you here:
Please subscribe to my YouTube channel where I archive all of the videos I curate at Insomnia. Click here to check out more Books posts.