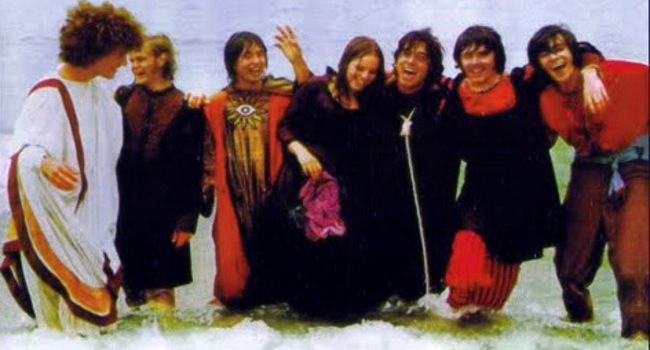 Last night we lost Phil Everly of The Everly Brothers, ending one of rock music's greatest duos forever. It's always a big blow when a band loses a member, but when you're talking about two brothers who sang together all of their lives, it's a regretful coup de grace.
Phil's death is a sad occasion, but also one for celebrating the enduring sound of the music he made with his brother, Don. While they are known for hits like "Cathy's Clown," "Wake Up Little Susie" and "All I Have to Do Is Dream," the duo also made a successful foray into psychedelic music, producing and playing guitars on an important nugget that only came to light in the last decade. Here's some information about the single "Her Name is Meldoy" from the Music Court Blog:
Band/Artist: Adrian Pride (Bernie Schwartz)
Origin: West Coast
Genre: Pop Psychedelic
Name: Adrian Pride was a pseudonym for Bernie Schwartz (not to be confused with actor Tony Curtis who was born Bernard Schwartz) that was created by producer (at the time) Phil Everly of the Everly Brothers. Apparently, people do not like the name Bernie Schwartz.
History:
Like I said above, Adrian Pride was the false name of Bernie Schwartz, a West Coast musician with Psychedelic Pop aspirations. And while Adrian Pride does sound like an awesome, but corny superhero, Schwartz only recorded under the name once. Yes, once. He used Pride for his dreamy meditation "Her Name is Melody," an apt title for a song that attempts to lure listeners into its constant rhythm, eastern guitar and melodic vocals. This example of psychedelic pop is from 1966 and was produced by The Everly Brothers.
Here's a bit more from All Music:
This raga-influenced ballad, with superb drumming and several layers of virtuoso playing on guitar, marked the sole appearance of Schwartz in this guise of Adrian Pride — he would resurface in 1968 under his own name as a member of the Comfortable Chair. Sad to say, "Her Name Is Melody" somehow missed the charts and had to wait until 2004, upon the release of Rhino Handmade's Hallucinations: Psychedelic Pop Nuggets from the WEA Vaults, to get a hearing before an appreciative audience.
Here's the song featuring Don on electric lead and Phil on rhythm guitar. There is even a conspiracy theory that the Everly's are actually doing the singing here, but that appears to be only a rumor.
Enjoy!
Stay Awake!
Please subscribe to my YouTube channel where I archive all of the videos I curate at Insomnia. Click here to check out more Music posts.