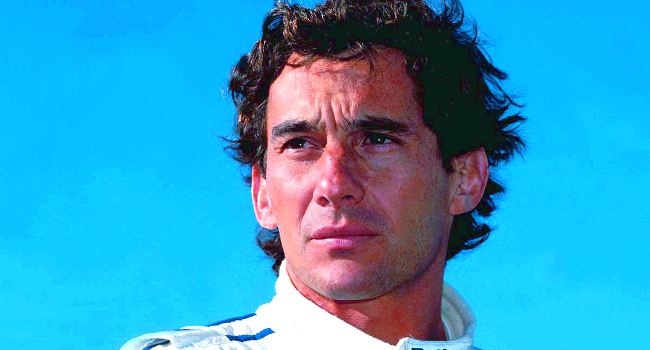 I'm posting this missive under "Occult" as anyone who's ever seen footage of Ayrton Senna driving knows he was travelling on another plane.
Last week, on what would have been the F1 driver's 54th birthday, Senna was honored with a Google Doodle — kind of. Jalopnik explains:
Over the past two days, you may have noticed an illustration of Ayrton Senna on your Google homepage. If you did, it's because you live in Brazil, New Zealand, Russia, Kenya, Turkey Croatia, and Guatemala… It almost seems random, who got the Senna Doodle and who didn't. Finland got it, but Sweden and Norway did not. Malaysia and Romania got it. Chile and Argentina did not, but Colombia had it. Even some real die-hard, F1 loving countries like Germany, France and the United Kingdom didn't get it…And guess what? My home country, the United States, didn't get it, but our neighbors and NAFTA pals Canada and Mexico both did. (Canada had it in both languages!)
I think Senna deserved one, is all. The Google Doodles, an artistic rendering of the typical logo with a clickable link to whatever they're about, have a history of highlighting interesting and important but maybe not obvious or extremely well-known figures. People like Russian composer Nikolai Rimsky-Korsakov; existentialist writer and actvist Simone de Beauvoir; and computer scientist and U.S. Navy admiral Grace Hopper are a few examples…
Senna wasn't an ordinary racing driver. A three-time world champion, his well of natural talent, incredible skills at the limit, and hyper-aggressive driving style makes him rank among the greatest drivers in F1 history, and maybe even THE greatest driver, according to a lot of people. 9P And Senna was more than just a guy famous for driving — and by "driving," I mean stunning, flat out battles with rivals like Alain Prost during what some consider to be the golden age of modern F1. During his career he rose to national hero status in his native Brazil, becoming one of the few points of pride for a country hammered by poverty and corruption.
He was a devoted humanitarian and devout Catholic, too, the kind who actually lived his faith. As per his wishes, his family established the Instituto Ayrton Senna in his honor, which has done a considerable amount of good for young people in Brazil.
Today, he remains one of the most recognizable names and faces in the world of F1. Asif Kapadia's brilliant documentary about his life, Senna, not only serves to memorialize his career but also serves as a gateway drug to the sport for a lot of people. Want someone to watch a race with you? Show them that movie. Then they'll get it.
Good suggestion. Watch SENNA right here…
Stay Awake! Please subscribe to my YouTube channel where I archive all of the videos I curate at Insomnia. Click here to check out more occult posts.