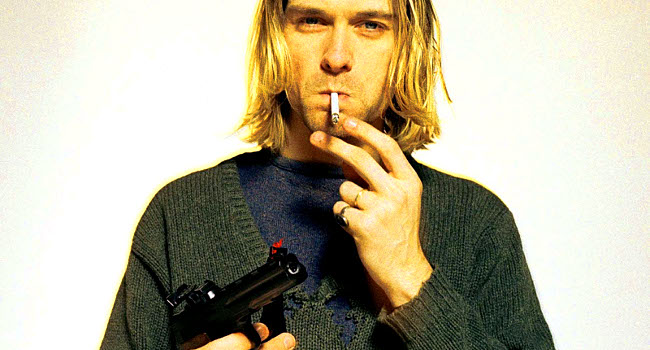 There's a fine line between the truth and a good story when it comes to celebrities. And when it comes to the death of a celebrity like Kurt Cobain, there is a fine line between the findings of the police investigation that ruled his demise a suicide and the conspiracy theories that insist the singer was the victim of a murder.
This week that line got even thinner as stories about police in Seattle re-opening their investigation into Cobain's death began to appear and new, never-before-seen photographs of the scene where the singer's body was discovered hit the internet. Here's the story via COS…
Now, 20 years later, Seattle police have found new evidence, prompting them to re-open the case. Reportedly, four rolls of 35 mm film had been sitting for years in the department's evidence vault. Last month, the film was processed by King County Sheriff's Office photo lab "under high security". Police told KIRO that the film more clearly shows Cobain's death scene than earlier photos taken by investigators. Why the photographs are only being developed now is unclear.

KIRO has reportedly obtained one of these photographs, which it will show during its broadcast tonight. Additional details regarding the investigation are also expected to be shared during the telecast.
Police plan to release the photographs and will answer questions on the anniversary of Cobain's death next month.
Technically speaking, the new photos constitute a re-examining of the case, but not an official re-opening. Here are two of the newly-discovered photos…
It's unlikely that questions about Cobain's death will really ever abate, after all, folks are still claiming that Elvis is alive and well. For me, the circumstances of the singer's death aren't as interesting as the culture surrounding those who continue to question the findings of police and coroners. Conspiracy theories aren't necessarily as interesting in and of themselves as they are as part of a storytelling, myth-making culture that insists that things simply aren't as they may so plainly seem.
When it comes to Cobain's death, the queen mother conspiracy theory is supplied by Nick Broomfield's documentary Kurt and Courtney. Watch it for yourself and see what all the fuss is about.
Stay Awake!
Please subscribe to my YouTube channel where I archive all of the videos I curate at Insomnia. Click here to check out more Music posts