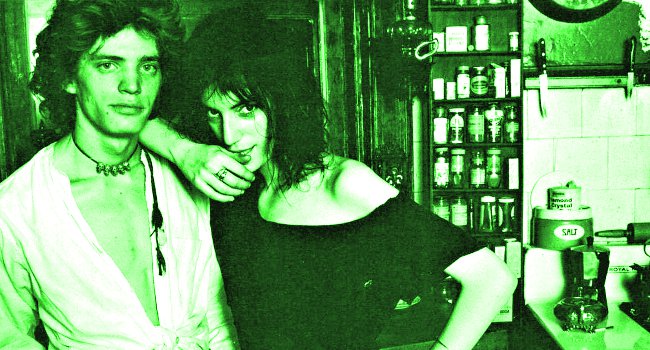 Controversial photographer Robert Mapplethorpe's work is still catching eyes 25 years after his death in March, 1989. Mapplethorpe was practically the subject of Patti Smith's outstanding memoir, Just Kids and the artist's work is currently featured in two new exhibitions. In an article titled "The Resurgence of Robert Mapplethorpe," T explains:
Two high-profile exhibitions are breathing new life into the work of a famous art provocateur. Here, the curator Clarissa Dalrymple, Mapplethorpe's dear friend, recalls one of his many controversial images.
I met Robert when I was a waitress at Broome Street Bar in 1973 or 1974. He would come in every afternoon for pecan pie. Robert was obsessed with capturing things on film that you can't easily capture, like passion and intensity. He was fascinated by the body and by sex. He was only too ready to abandon things if he didn't think they were up to scratch.
There's a famous photograph of my youngest son, Jesse, of whom Robert did a nude picture. Robert wanted to take this picture of Jesse, who was 4 or 5, seated on the back of a beautiful armless red chair that I had, in one of those teeny apartments on Thompson Street. It was held up in the Senate as an example of child pornography, but it really wasn't anything. On the 14th anniversary of the photograph, when Jesse was an adult, Robert's great friend Judy Linn was commissioned by The Village Voice to rephotograph Jesse. Holding Robert's original photograph, Jesse sat naked on the back of the sofa, and in the background was Flora — the black standard poodle Robert had given me as a gift, which was named after a body of his work. It's a magnificent photograph. Robert would have been tickled.
''As above, So below'' is on view Feb. 28 to March 29 at Ohwow, 937 N. La Cienega Blvd., Los Angeles; oh-wow.com. ''Robert Mapplethorpe'' is on view from March 26 to July 13 at the Grand Palais, 254/256, rue de Bercy, Paris; grandpalais.fr.
Here is a clip from a BBC documentary about Mapplethorpe which features footage from his influential, early art film Robert Having his Nipple Pierced…
Stay Awake!
Please subscribe to my YouTube channel where I archive all of the videos I curate at Insomnia. Click here to check out more Art posts.